Sophomore wins 2019 Talent Show
Students often get nervous before things a big athletic event or when they have to give a presentation for class, but imagine what it would feel like to have to perform for the entire student body.
That's exactly what this year's talent show participants experienced. But this year's winner, sophomore Eythun Wyatt, said he didn't feel nervous at all.
Wyatt performed the Dewey Decimal Rap, an educational rap song to teach kids about the Dewey Decimal System.
"Since it was just a comedy performance, I felt pretty confident about it, but if I were performing something that I cared about a lot, I would have been absolutely terrified," Wyatt said.
When the results were being announced, he was shocked to hear that he had gotten first place.
"Everybody at my elementary school learned it, and it just stuck with me through all the years," Wyatt said. "I thought people would enjoy it. I just wanted to make them laugh."
Other participants this year included sophomore Alisara Arial, sophomore Ayden Gonzalez, a trio of junior DaVontai Robinson and seniors Isabelle Pfeifer and Jessica Straight, and a duo of Brittani and Nic Park.
The Park siblings won second place performing a medley of Spongebob songs.
"My brother and I were talking about doing it for my senior year, and we were just kidding about it this summer," Brittani said. "The closer the talent show got, he started getting more and more excited, so we just kind of did it."
Arial performed "Never Enough" from The Greatest Showman and placed third in this year's talent show.
"I just chose the song because it was exciting," Arial said. "I'm glad to have placed. I didn't think I would've placed at all."
Pfeifer, Straight, and Robinson chose to sing "Little Do You Know" by Alex & Sierra because they thought it was a meaningful song.
"Considering we only practiced for three days, I think we did pretty good," Straight said.
Sophomore audience member Alexis White said that trying out for the talent show shows something impressive about a student's character.
"They're not only really passionate about what they're doing, but they have the guts to get up there and do it," White said.
Gonzalez, who performed a guitar solo for the talent show, agreed with the other participants on the fact that it's important to get out there and show people what you've got.
He said he performed in the talent show because he wanted everyone to hear the type of music he liked so they could have a different aspect on life, and encouraged people to go after what they want.
"If I can do it, anyone can," Gonzalez said. "You just need to try hard and push yourself, even past the limit."
21cleiker@usd489.com
About the Contributor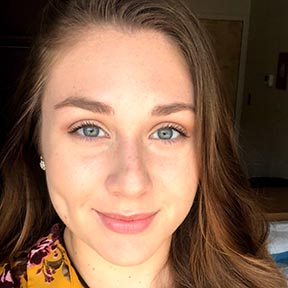 Caitlin Leiker, Copy Editor
Caitlin Leiker is a junior, and this is her second year in newspaper. She is involved in Chamber Singers, Musical, Spring Play, swimming, Leadership Team...