Students interested in Spring Play meet during PRIDE Time on Dec. 2
Students interested in Spring Play met in the Lecture Hall on Dec. 2 during PRIDE Time.
This year's spring play is "Murder's in the Heir" by Billy St. John.
"The play is a very common who-done-it," Director Bill Gasper said. "Right now, 'Knives Out' is on over at the theater, and this play follows the same format. You have a group of people in a remote location, and somebody gets murdered, and they all have motives."
Each part in the play has approximately the same amount of lines.
"The usher only has one line, but I'm thinking about changing that," Gasper said. "Everyone else has, pretty well, equal lines."
Those interested in auditioning must turn in a participation agreement to the office no later than 3:15 on Dec. 4.
Auditions will be held Dec. 11 and 12 from 3:15 to 6 p.m. with callbacks being on Dec. 13 at 3:15 p.m. if necessary.
Everyone who auditions will be required to read the general monologue in the informational packet as well as preparing another monologue. Some may be asked to read a third monologue randomly picked by Gasper.
Those auditioning must also bring the audition form from the informational packet with them to the audition.
Gasper recommends reading through the play before auditioning.
"I don't know how you could audition for a play if you haven't read through it," Gasper said.
Gasper wants students to be aware of the limited number of roles.
"Unfortunately, there's about 15 or 16 parts, and there's 45 people in here now, so some of you are not going to get a part," Gasper said.
Rehearsals will be held Monday through Friday from 3:30 to 6 p.m. starting on Jan. 21, 2020.
Performances will be held March 19, 20 and 21 at 7 p.m. at 12th Street Auditorium.
21afeyerherm@usd489.com
About the Contributor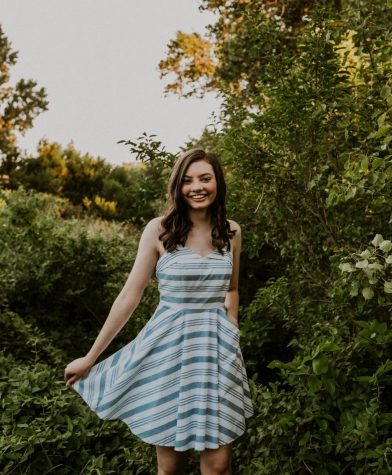 Alicia Feyerherm, Editor-in-Chief
Alicia Feyerherm is a senior, and this is her fourth year in Newspaper. She is very honored and excited to be in the role of Editor-in-Chief this year....