'Lady Bird' portrays adolescence realistically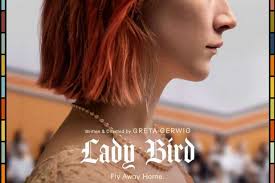 Hang on for a minute...we're trying to find some more stories you might like.
'Lady Bird' is a 2017 film directed by Greta Gerwig and stars Saoirse Ronan, Laurie Metcalf, Lucas Hedges, Timothee Chamalet and Tracy Letts. The film has been marketed as a coming-of-age story about a girl in her last year of high school and her relationship with her mother.
The film was nominated for four Golden Globes and won two. Saoirse Ronan won the award for Best Actress in a Comedy or Musical and the film itself won Best Film in the comedy section. All of these awards are well deserved.
The film paints an extremely realistic portrait of youth and how it feels to experience many things for the first time. The script felt authentic and this feeling was heightened by the amazing performances from the cast.
Often times with teen movies, the dialogue can seem forced or unrealistic, but the dialogue in 'Lady Bird' feels like conversations I've had with my fellow classmates.
The conversations between characters feel alive and even when they are supposed to be awkward, they flow easily though the scene.  The directing also flows easily and weaves itself from scene to scene. It's hard to believe that this is Gerwig's directorial debut.
Overall, this is an excellent film that is a refreshing take on a classic coming-of-age plot line. I would rate this film 9/10 and would recommend this movie to anyone who enjoys a feel-good, teen movie.