Hays high orchestra performs in the May 3 All-City Strings Concert
Hays orchestras all performed at their All-City Strings Concert at 7 p.m. on Monday, May 3 in the Hays Middle School gym.
Priority for live audience members went to parents of seniors and fifth graders, but a live-stream option was also available.
Audience members were required to social distance and wear masks.
Performing groups consisted of fifth graders through seniors, including Hays elementary schools, Hays Middle School and Hays High School orchestras.
The program consisted of fifth through eighth grades performing several selections directed by Nathan Mark and high school performing the following pieces conducted by Joan Crull.
Concert Orchestra performed "Brandenburg Concerto, No. 3" by Bach/Issac and "Fantasia on a Theme from Thailand" by Richard Meyer; Chamber Orchestra performed "Symphony No. 7 in D Minor," "Scherzo" by Dvorak Parrish and "St. Paul's Suite, Jig" by Holst.
In between performances, seniors Alisara Arial and Cami Moore each won the Orchestra Booster Scholarship Awards and National School Orchestra Awards.
"I was very proud of the students, as both orchestras knocked it out of the park," Crull said. "It was really fun to watch all the USD 489 orchestras play, starting with the beginners and ending up with the high school orchestras."
The All-City Strings Concert is the final orchestra concert for the 2020-2021 school year.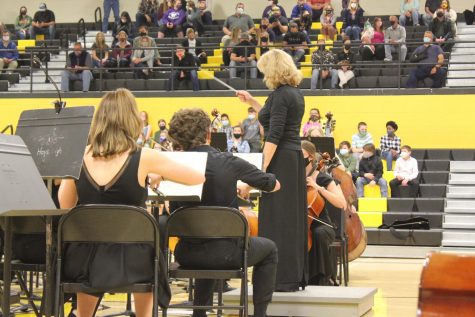 Chamber Orchestra performs "Symphony No. 7 in D Minor," "Scherzo" by Dvorak Parrish and "St. Paul's Suite, Jig" by Holst. (Aaliyah Neuburger)
"It shows the tremendous progress they make in just a few years," Crull said. "Of all the concerts we give, I think this is my absolute favorite!"
22acoveney@usd489.com