Hays High Library hosting poetry contest
April is National Poetry Month, and to celebrate this, the Hays High library will be sponsoring a poetry competition.
"[The contest] is actually in honor of National Poetry Month," librarian Erin Holder said. "It happens every year in April. In the 'Starbooks' theme we are doing in the library for the last semester, we have monthly 'specials.' The first month, January, we had Five-Star Ratings: student/staff favorite books. February, we did Black History Month and had strong black authors and historical figures featured, and then in March, we did Women's History Month and did the same concept as BHM, but with strong female figures, so we decided to continue that this month with National Poetry Month."
For National Poetry Month, the library is hosting a poem competition.
"Students can come down either during PRIDE Time or during their GPS when they are finished with their work," Holder said. "During passing is not enough time to complete it, however."
There are two categories to the competition, blackout poetry and spine poetry.
Blackout poetry is when you fill in lines of the text to create a background or picture while the remaining blank lines form a poem. Spine poetry is created when you arrange the titles of books stacked together to form a poem.
"For spine poetry, you grab any books you want off of our shelves and create a poem from them," Holder said. "For blackout poetry, you can either grab one of the pre-selected pages from a random book or go to the shelf and find one that you would like to use. Use your artistic talents and black out the entire page except for the specific words that you would like to use for your poem!"
The submitted poems will be displayed in the library and will be voted on during the end of the month. The entries are due April 30 and winners will be announced early May.
"Winner of first, second and third place of each category will receive Starbucks gift cards," Holder said. "We received some $5 gift cards from Starbucks that we are offering as prizes as well. The top three submissions with spine poetry get a prize, as well as the top three for the blackout poetry. "
Holder said she is excited to see the students' submissions and ideas.
"[I'm looking forward] to see the students' creativity," Holder said. "Some of the submissions are hilarious, [and] some are serious and real. That's the great thing about poetry – you can make it whatever you are feeling at the moment."
23rfairbank@usd489.c0m
About the Contributor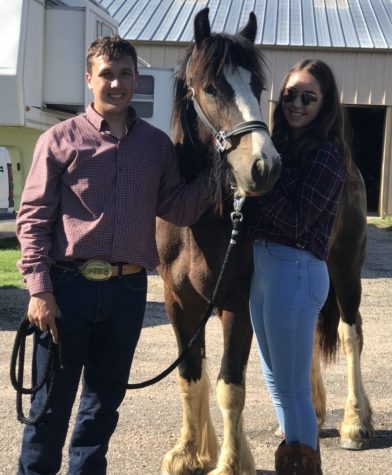 Rylie Fairbank, Staff Reporter
Rylie Fairbank is a sophomore, and this is her first year in newspaper. She absolutely loves anything "Mamma Mia" and ABBA. All fruit snacks are tropical...