Entrepreneur Aaron Dreher speaks with students during PRIDE Time on Nov. 19
Entrepreneur and 2009 Hays High graduate Aaron Dreher presented to students about his career during PRIDE Time on Nov. 19.
Dreher did not initially know what he wanted to do with his life.
"My senior year, I was terrified," Dreher said. "I felt like everyone else knew what they were doing, and I had no idea. It'll figure itself out. I wouldn't be too worried about it. "
Dreher then decided to go into education.
"My goal all through college was to take his [Stan Dreiling's] job," Dreher said. "He decided he wanted to wait to retire, so I started a couple small businesses on the side that kind of took off."
While in high school, Dreher mowed lawns and built fences for people and also worked at Carlos O'Kelly's.
"I was 15, 16 at the time when I worked at Carlos, and everyone was at college or out of college, so I learned a lot from them, gained habits from them," Dreher said. "When I first started working there, I hated it because everyone was older than me, but I learned so much from them."
Dreher said one setback of being a business owner is that his phone is always ringing.
"Everything is always going off because someone always needs something from you, which isn't necessarily a bad thing, but it's not always a good thing either," Dreher said.
Dreher emphasized the importance of having supportive people that will keep you grounded.
"If you don't have a spouse who realizes there are high and lows as far as money when owning a business, it'll ruin everything," Dreher said. "However, my wife doesn't just go along with everything I say. She does challenge me on some things, which is good because it makes me think through things more."
Dreher's biggest piece of advice for those starting out in an entrepreneurial path is to keep debt to a minimum and live within your means.
"Live off the lows, not the highs," Dreher said. "Live off the averages and try to keep your debt low. You make a lot of money one month, but not so much the next so you need to plan for that."
21afeyerherm@usd489.com
About the Contributor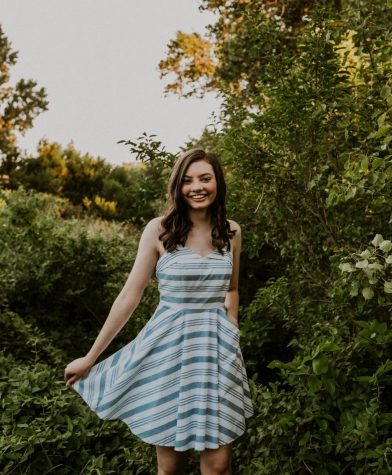 Alicia Feyerherm, Editor-in-Chief
Alicia Feyerherm is a senior, and this is her fourth year in Newspaper. She is very honored and excited to be in the role of Editor-in-Chief this year....