New Drum Majors talk about goals for the coming year
Hang on for a minute...we're trying to find some more stories you might like.
As the Marching band gets ready for the 2018-19 school year, senior Cameron Karlin and junior Lynsie Hansen can be seen in front, keeping tempo and order.
Karlin and Hansen are in front because they were chosen as the school year's Drum Majors.
New Drum Majors are selected every year by the band director based on an application band members fill out at the end of the year. Only juniors and seniors can be chosen.
Drum Majors are not a traditional band member. During halftime shows, Marching Band and other shows, they don't play an instrument. They only time they do play is during concert band.
"My main job as the Drum Major is to help keep the tempo and start the different pieces during a performance," Karlin said. "I also do lots of other things to help the band director and keep practices going smoothly."
Both Drum Majors want to see their band succeed this year. They each have goals that they would like to see accomplished.
"I would really love to see our band get a I in WAC this year," Hansen said. "It may not be easy, but with a lot of hard work put in by every student, our band is going to sound really great."
Karlin is focused more on what he can do now to make accolades and wins come easier for his band.
"We have a really young band this year so all that I really want to see this year is growth," Karlin said. "As long as we get a good start and teach the new kids everything that they need to know to be successful we will have a really great band for years to come."
Even though the Drum Majors were chosen by the band director, their position is not disputed by their peers in band.
"Yes, I think they are pretty great," sophomore Alisara Arial said. "I think Lynsie and Cameron are pretty awesome."
Lynsie and Karlin's reputation, along with their leadership ability is not questioned either.
"The Drum Majors are always what keep us on track," senior Calvin Duden said. "I think they were a good choice. I mean, they both definitely have really good leadership skills."
19sperryman@usd489.com

About the Contributors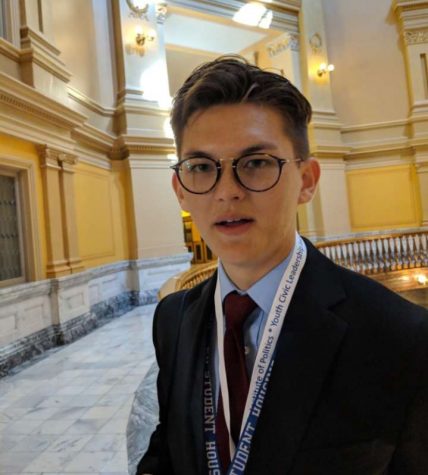 Scout Perryman, Staff Reporter/Cartoonist
Scout Perryman is a big, bad, senior. He is only doing newspaper because he would get yelled at by Isabelle if he did not. Scout's eyebrows are always...