Winter Concert showcases music department talent
The music department held their annual Winter Concert on Dec. 19 at the Beach/Schmidt Performing Arts Center.
First to perform was the vocal groups, including Concert Choir, Chorale and Chamber Singers.
Concert Choir performed two pieces, "Festival Sanctus" by John Leavitt and "African Noel" arranged by Andre Thomas.
Chorale and Concert Choir combined to sing "Jingle Bells Through the Ages" by Allen Porte.
The song featured several speaking and vocal solos, junior Michael Hernandez was one of them.
"I sang a solo that mimicked a 1950's style rock song," Hernandez said. "I thought it was a bunch of fun. It reminded me a lot of 'Bye Bye Birdie', the musical we just performed."
The Chamber Singers performed three songs, "Ave Marie" by Tomas Victoria, "The Shepherd's Lamb" by Dan Forrest and "In The Moon of Wintertime" by Paul Brandvik.
Sophomore Emily Ricke said her favorite Chamber Singer piece to perform was "In The Moon of Wintertime".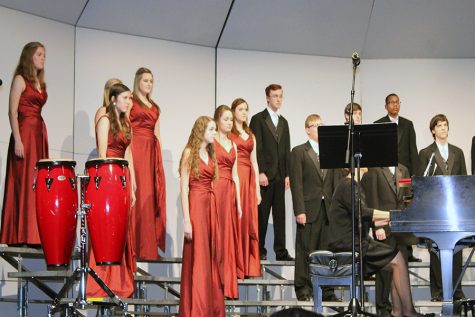 "I enjoyed a lot of different parts of the concert," Ricke said. "This concert is a really good place to show how hard everyone in the music department really works."
The second part of the concert featured the instrumental section of the music department.
Jazz band performed first with three songs, "Groovin' High" by John Gillespie, "City Sunrise" by Maria Schneider and "Rest Ye Merry Samba" arranged by Baker.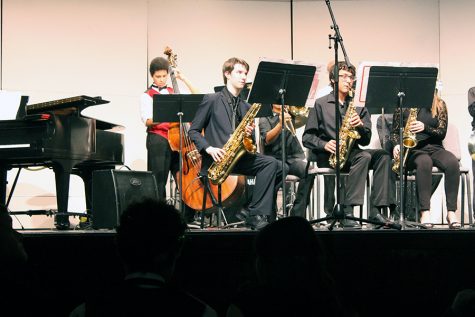 Senior Tanner Callis arranged a small group to perform "The Parting Glass", a Celtic song he arranged himself. The group had a very small window of time to prepare the piece, but Callis said the performance was a complete success.
"It all came so together so well in the end," junior Trinity Callis said. "We asked a lot of each of our performers and they all pulled through to perform a great song."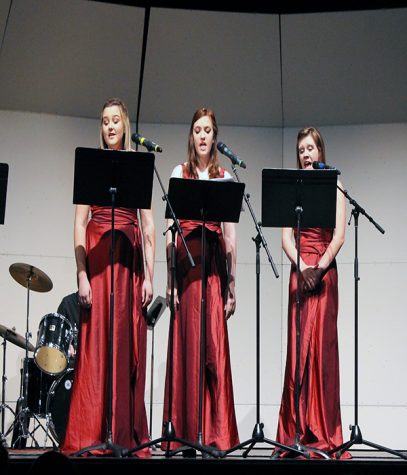 Concert Band performed three pieces, "Sparkling Lights"by Handel, "At Mornings First Light" by David R. Gillingham and "Rejoice the Season!" arranged by Rob Romeyn.
Band director Matt Rome dedicated the song "At Mornings First Light" to Jeff Jordan, a Fort Hays State University instructor.
"Without him I wouldn't be where I am today," Rome said. "I want to share this moment of music with Dr. Jordan and my students."
Orchestra performed three pieces, "Hornpipe" by Handel, "The Wexford Carol" arranged by McGinty and "Carol of the Bells" arranged by Hopkins.
"My favorite piece was 'Carol of the Bells'," sophomore Dante Jett said.
The concert was concluded with two vocal and instrumental combined pieces, "Peace, Peace" arranged by Fred Bock and "Hallelujah Chorus" by George Frederic Handel.
"I always love being able to show what our music department is capable of doing," junior Taya Randle said. "This concert is always long, but it's a wonderful evening full of great music from the students."
Leave a Comment
About the Contributor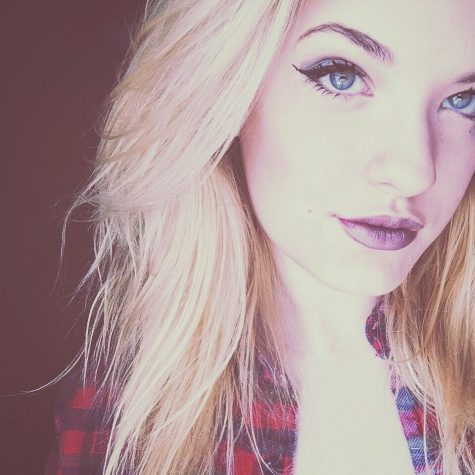 Anniston Weber, Co-Editor in Chief
Anniston Weber is Co-Editor-in-Chief of the Guidon and a senior this year. She has been involved with the Guidon for three years. In addition to being...