Lady Indian swimming places fifth in March 13 season opener
Lady Indian swimming scored 224 points enroute to a fifth-place finish at its first meet of the season at Salina Central on March 13.
First place went to Great Bend with 545 points, followed by Hutchinson with 484. Third and fourth went to Junction City and Salina Central with 322 and 273 points, respectively.
"I think we did good for our first meet," junior Alexandria Hagerman said. "However, there is definitely room for more improvement."
The next meet will be in Great Bend on March 29.
200 Medley Relay A – Alexandria Hagerman. Loganne Ditter, Emilee Pfannenstiel, Megan Flavin 6th (2:30.52)
200 Medley Relay B – Hanna Dannar, Hannah Harman, Alyssa Owens, Taylor Deines 11th (3:06.16)
200 Freestyle – Hanna Dannar 11th (3:02.79); Hannah Harman 13 (3:18.02); Taylor Deines 14 (3:38.24)
200 Individual Medley – Megan Flavin 4th (2:41.78); Loganne Ditter 10th (3:22.74)
50 Freestyle – Kaitlyn Christen 15th (39.02); Mikayla Koerner 16th (39.53); Madison Holloway 17th (40.06)
100 Butterfly – Hannah Harman 9th (1:54.12); Alisara Arial 10th (1:57.93); Alyssa Owens (DQ)
100 Freestyle – Emilee Pfannenstiel 5th (1:04.79); Alexandria Hagerman 13th (1:19.70); Alisara Arial 16th (1:41.45)
500 Freestyle – Megan Flavin 2nd (6:12.33); Hanna Dannar 8th (8:09.33)
200 Freestyle Relay – Emilee Pfannenstiel, Loganne Ditter, Alexandria Hagerman, Megan Flavin 7th (2:09.18)
100 Backstroke – Mikayla Koerner 9th (1:32.53)
100 Breaststroke – Emilee Pfannenstiel 9th (1:32.42); Loganne Ditter 12th (1:39.25)
400 Freestyle Relay – Hannah Harman, Madison Holloway, Mikayla Koerner, Hanna Dannar 8th (6:12.82)
19sperryman@usd489.com
About the Contributor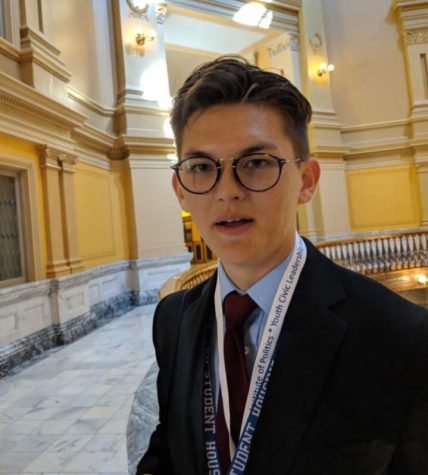 Scout Perryman, Staff Reporter/Cartoonist
Scout Perryman is a big, bad, senior. He is only doing newspaper because he would get yelled at by Isabelle if he did not. Scout's eyebrows are always...