Swim team places ninth at Manhattan
Hang on for a minute...we're trying to find some more stories you might like.
Good feelings all around as the Boys Swim team 200 yd relay finally swims a state consideration time of 1:43.78 at their final regular season meet.
Swimming Indians swam hard for their 9th place finish at Manhattan in their most competitive meet since the Topeka Invite. Manhattan hosted 15 swim teams. This is the second time this season, the swim team has been in Manhattan.
The final meet before state will be WAC on Feb. 8. It will be hosted by Great Bend.
200 Medley Relay – Marshall Perryman, Brett Bowles, Isaac Smith, Scout Perryman (2:02.73) 14th
200 Freestyle – Blade Goering (2:33.40) 27th, Carson Ackerman (2:33.78) 28th
200 Individual Medley – Isaac Smith (2:15.17) 2nd
50 Freestyle – Scout Perryman (26.13) 18th, Brett Bowles (26.51) 21st, Zach Miller (28.42) 32nd
100 Butterfly – Isaac Smith (57.07) 3rd, Scout Perryman (DQ)
100 Freestyle – Brett Bowles (57.56) 17th, Kayson Unsworth (1:12.14) 37th, Matt Goodale (1:12.87) 39th
500 Freestyle – Carson Ackerman (6:51.66) 22nd, Dillon Gray (8:24.55) 30th
200 Freestyle Relay – Blade Goering, Brett Bowles, Scout Perryman, Isaac Smith (1:43.78) 9th, Dillion Gray, Andrew Prine, Skylar Zimmerman, Zach Miller (DQ)
100 Backstroke – Matt Goodale (1:30.08) 31st
100 Breaststroke – Kayson Unsworth (1:30.77) 33rd, Skylar Zimmerman (1:35.48) 35th, Andrew Prine (1:39.71) 36th
400 Freestyle Relay – Kayson Unsworth, Matt Goodale, Carson Ackerman, Blade Goering (4:50.63) 24th
19sperryman@usd489.com

About the Contributor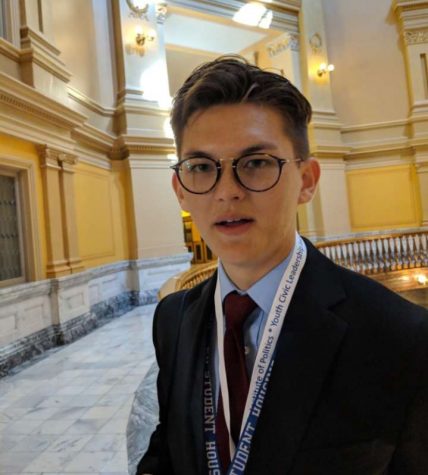 Scout Perryman, Staff Reporter/Cartoonist
Scout Perryman is a big, bad, senior. He is only doing newspaper because he would get yelled at by Isabelle if he did not. Scout's eyebrows are always...