Swim team places fifth at final Salina meet
Hang on for a minute...we're trying to find some more stories you might like.
The Indians swim team placed fifth at the Salina Central invite with 217 points, beating Rose Hill. The meet had swimmers from Great Bend, Salina Central, Newton, Hutchinson and Rose Hill. This being the final meet in Salina for this season. Their next meet will be held at 11 a.m. Feb. 3, in Manhattan.
The 200 freestyle relay team is one second away from state consideration. They hope to consider next meet in Manhattan.
200 Medley Relay – Marshall Perryman, Brett Bowles, Isaac Smith, Scout Perryman (2:03.70) 6th
200 Freestyle – Blade Goering (2:30.27) 12th, Carson Ackerman (2:43.58) 13th, Marshall Perryman (2:52.89) 15th
200 Individual Medley –
50 Freestyle – Brett Bowles (26.13) 12th, Scout Perryman (27.28) 11th, Zach Miller (28.65) 14th
100 Butterfly – Isaac Smith (58.07) 2nd, Scout Perryman (1:16.45) 7th
100 Freestyle – Brett Bowles (59.49) 9th, Kayson Unsworth (1:12.64) 16th, Matt Goodale (1:13.71) 17th
500 Freestyle – Carson Ackerman (7:15.38) 7th, Dillon Gray (8:00.27) 9th, Skylar Zimmerman (8:10.43) 10th
200 Freestyle Relay – Blade Goering, Brett Bowles, Scout Perryman, Isaac Smith (1:45.99) 4th, Dillion Gray, Andrew Prine, Skylar Zimmerman, Zach Miller (2:24.31) 13th
100 Backstroke – Marshall Perryman (1:14.78) 8th, Matt Goodale (1:30.46) 11th
100 Breaststroke – Kayson Unsworth (1:28.25) 10th, Andrew Prine (DQ)
400 Freestyle Relay – Marshall Perryman, Matt Goodale, Carson Ackerman, Blade Goering (5:10.18) 7th
19sperryman@usd489.com

About the Contributors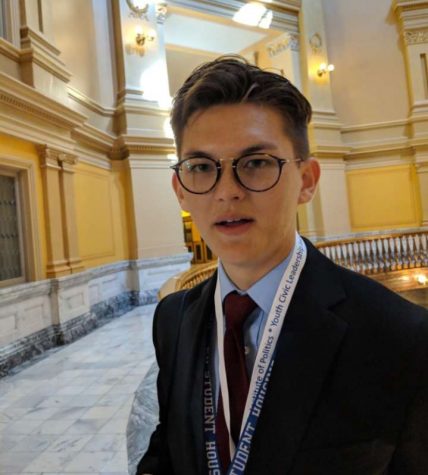 Scout Perryman, Staff Reporter/Cartoonist
Scout Perryman is a big, bad, senior. He is only doing newspaper because he would get yelled at by Isabelle if he did not. Scout's eyebrows are always...