Students share their Easter traditions
In Christianity, Easter celebrates the Resurrection of Jesus on the third day after his crucifixion. For many families, Easter incudes going to church, being with family, having Easter dinner, doing egg hunts and decorating Easter eggs.
"Some traditions we have are going to church each year, doing an egg hunt, dying eggs and having a big lunch," sophomore Jaycine Watson said.
Like Watson, freshman Morgan Geerdes said she always has an Easter meal with her family.
"This Easter, I ate dinner with my family and played outdoor games in the nice weather," Geerdes said. "My family used to do easter egg hunts, but now that we are older, we make an Easter egg hunt for our dogs."
Like Geerdes, junior Lauryn Miller spent time with her family and friends this Easter.
"This Easter, my family went to church, ate dinner and spent time with friends," Miller said. "In the past, we have decorated Easter eggs and had grandparents and cousins over for a meal. Because of everyone's schedule this year, we were unable to do these things this year. My family always goes to church together Easter morning to celebrate resurrection Sunday, then eats dinner as a family."
Eggs are often associated with Easter. Easter eggs, from a Christian perspective, represent Jesus's emergence form the tomb and resurrection. Eggs are also an ancient symbol of new life and are linked to pagan festivals of spring. Decorating easter eggs dates back to the 13th century, as people were forbidden to eat them during the Lenten season, so they would paint and decorate them to mark the end of penance and fasting, then eat them on Easter.
"One family tradition that my family has is when we have a competition to see who can dye the ugliest egg," senior Jessica Luedders said.
Like Luedders, Watson dyed easter eggs with her family.
"This Easter, I went to Garden City to see my grandparents, aunts, uncles and cousins," Watson said. "On Saturday, we dyed eggs and went shopping. On Sunday, we went to church, had a great Easter lunch and did an easter egg hunt for the little kids."
The Easter Bunny does not have exact origins, but some believe it can be traced back to when German immigrants came to America in the 1700s. They settled in Pennsylvania and transported their tradition of an egg-laying hare called "Osterhase." The children would make nest for the hare to lay its colored eggs. The custom spread across the United States, and the rabbit's gifts grew to include chocolate, candies and other gifts. The children started decorating baskets instead of making nest and would leave out carrots similarly to milk and cookies for Santa.
"This Easter, we went to Missouri and spent Easter with my cousins," freshman Samantha Albin said. "We don't really have any Easter traditions anymore, but when my sister and I were younger, we always dyed Easter eggs and set them out for the 'Easter Bunny,' similar to how most people do with cookies for Santa."
23rfairbank@usd489.com
About the Contributor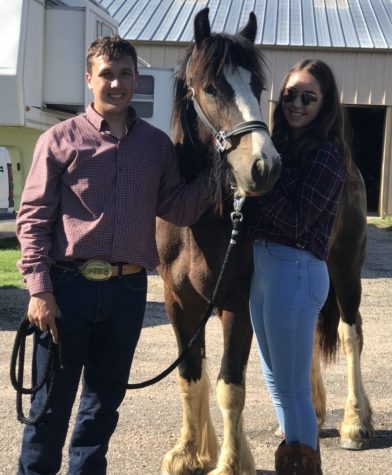 Rylie Fairbank, Staff Reporter
Rylie Fairbank is a sophomore, and this is her first year in newspaper. She absolutely loves anything "Mamma Mia" and ABBA. All fruit snacks are tropical...