USD 489 Board of Education meets, discusses added precautions for winter sports
USD 489 Board of Education met on Nov. 9 and discussed items on the agenda.
Superintendent Ron Wilson discussed changes to winter sports to adhere to COVID guidelines.
"Practices will be held different for each sport in terms of how they're rotating," Wilson said. "As athletes are finished competing, we will ask them to put on their mask. This is an indoor situation, so we really have to be a bit more cautious."
When traveling, athletes will wear masks and face shields on the busses, with coaches keeping seating charts. Students must wear their face shields to guarantee they will not be quarantined.
In addition to added safety measures, Wilson stressed staying safe outside of school as well.
"We are really going to and encourage our kids to be smart about attending large group gatherings outside of school, as well as encouraging mask wearing outside of school," Wilson said.
Tickets for all varsity events will be pre-sold, limiting seating to 55 percent capacity. Students will not have to pre-purchase tickets.
"We will ask fans to wear masks at all times while in the gym," Wilson said. "We don't want that to be an issue. It's important that they also sit in the assigned areas."
Wilson said he hopes spectators realize the importance of masks.
"I hope those who come realize it's not about us," Wilson said. "It's about the kids and their ability to play their games."
21afeyerherm@usd489.com
About the Contributor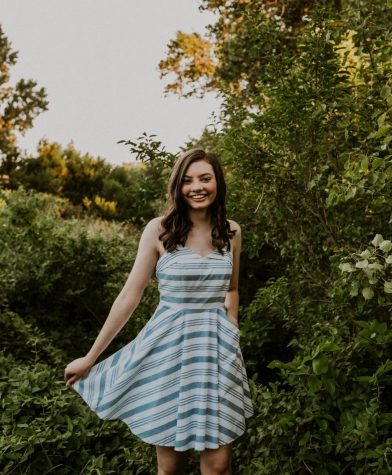 Alicia Feyerherm, Editor-in-Chief
Alicia Feyerherm is a senior, and this is her fourth year in Newspaper. She is very honored and excited to be in the role of Editor-in-Chief this year....