Senior Taylor Weidenhaft earns title of National Merit Commended Student
Senior Taylor Weidenhaft was recently recognized as a National Merit Commended Student for her outstanding work on the 2019 PSAT/NMSQT.  
"I found out I was a commended student when I had my senior meeting with [counselor] Mrs. [Amy] Miller," Weidenhaft said.  
The National Merit Scholarship Corporation uses a Selection Index based on PSAT/NMSQT scores as an initial screening of students who enter its scholarship programs. To calculate the Selection Index, it doubles the sum of the student's Reading, Writing and Language, and Math test scores. 
Weidenhaft did not take the PSAT/NMSQT her sophomore year, but her junior year, she received a score of 1410 composite score and a 212 NMSC Selection Index.  
For Kansas, to become a National Merit Scholar Semifinalist, one must have a NMSC Selection Index score of 218. 
"I was honestly pretty frustrated with myself when I found out because my selection score was six points below the score needed to become a semifinalist," Weidenhaft said. 
While Weidenhaft did not receive any monetary award from being a commended student, she said she hopes the accomplishment will improve her chances of receiving other scholarships or jobs. 
Aside from the test practice that Weidenhaft completed in Diane Mason's Honors English class, she did not spend any extra time preparing for the test.  
"My advice for students taking the PSAT this year would be to not put too much pressure on yourself, get a good night's sleep the night before the test and eat something for breakfast that morning because it's a long test and you'll probably get hungry," Weidenhaft said.  
21afeyeherm@usd489.com 
About the Contributor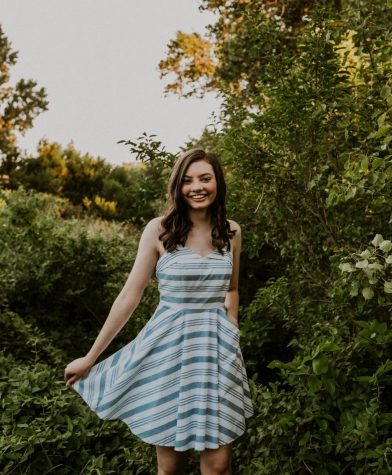 Alicia Feyerherm, Editor-in-Chief
Alicia Feyerherm is a senior, and this is her fourth year in Newspaper. She is very honored and excited to be in the role of Editor-in-Chief this year....