Staff member reviews 'Haysopoly' game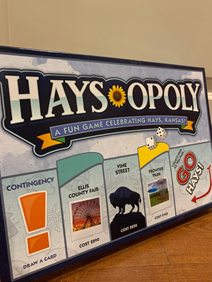 "Haysopoly" is a Hays-themed "Monopoly" clone. All of the "Monopoly" staples have been adapted to fit Hays. In particular, the Boardwalk area of the typical "Monopoly" board has been changed to The Bricks in downtown Hays. All of the properties have been adjusted to fit in with the Hays theme, such as the spots for Boardwalk,New York Avenue, and St. James Place. These have been changed to The Bricks Downtown, Larks Park, and The Golden Q respectively. But, my all-time favorite property has to go to where Ventnor Avenue was, as it was renamed to Hays High School in this version of the game.
The board is a little outdated, as it includes a few local businesses that are no longer still in business, such as The Soda Shoppe Café, which took the place of Baltic Avenue.
In terms of actual gameplay, a few mechanics have been changed. A very notable change has been the usefulness of the Chance and Community Chest cards, renamed "Big Fun" and "Contingency," respectively. These cards no longer just give or take away money, or slightly move you around a bit. These versions will swing you around the board, make you lose a turn or just let you go anywhere you feel like going.
Many tokens have changed as well. There are no longer the Monopoly staples like the car, the dog, and the battleship have been done away with. Instead a pretzel, a smile, and a pug have taken the stage.
The game has the usual annoying "Monopoly" mechanics, such as the early game snowballing, but "Haysopoly" has the lose a turn card, making the snowballing even worse. Still, "Haysopoly" is a great boardgame to play with other Hays residents.