Freaks and Geeks TV show Review
"Freaks and Geeks" is a television show that ran from 1999 to 2000, only one season aired before it was cancelled. The show is about two different groups of students at the fictional McKinley High School in the early 1980s. It mainly revolves around Sam Weir (John Francis Daley) and his sister, Lindsay (Linda Cardellini).
Sam is considered a geek. He has two really good friends, Bill Haverchuck (Martin Starr) and Neal Schweiber (Samm Levine) who encourage him though the challenges in his life, including hopeless crushes, physical appearance and doing well in school. Sam and his friends love Sci-fi, TV shows, movies, comedy and girls.
Lindsay used to be a goody-two-shoes mathlete that wore clips in her hair and made perfect grades, but after the traumatic death of someone she was very close to, she began changing herself by experimenting with other groups. She mostly hangs out with Daniel Desario (James Franco), Kim Kelly (Busy Phillips), Nick Andopolis (Jason Segel) and Ken Miller (Seth Rogen). They are known as freaks or burnouts and love rock music.
Lindsay completely changed her appearance and lost her old friends. At first, her new friends get her into a lot of trouble, but they become very close.
This show deals with so many real life issues though it was set in the 80s and aired in the 90s. It is quite complex, you grow attached to every character because the show brings you into each of their lives.
You are exposed to so many different kinds of relationships such as broken homes, overbearing parents, crushes, being stuck in the friend-zone, best friends, old friends, boyfriends, girlfriends and enemies. The flaws in the characters' relationships cause them to desire change and really make the series interesting as they have to deal or try to fix the tensions in their relationships.
I think the main theme of this show is finding oneself. Lindsay didn't really ever want to be that goody-two shoes, and I believe she didn't really want to hang out with the freaks until she really got to know them. But the very last episode really conveys who she found herself to be in the end. Sam and his friends are also constantly trying to be "cool" when they really just aren't. They decide one night while playing Dungeons and Dragons that maybe it's not so bad being a geek after all.
This series just shows that it's not all about what group you're in in high school, it's about being yourself and not letting all your decisions be made for you.
"Freaks and Geeks" has truly become one of my very favorite shows of all time. It is so humorous and I found myself laughing out loud to it on several occasions. It has a stellar cast with all the people I mentioned before plus guest stars like Ben Stiller and Shia LaBeouf. And since it was set in 1980 and 1981, the music featured in the show is wonderful. There are tons of great songs that they play on it from Journey, the Ramones, Led Zeppelin and others from that time period.
The acting is terrific and the whole show just really leaves a good impression. It actually teaches some pretty good lessons. With the loveable characters and hilarious plot, I'm really sad that they cancelled it early. I wish there was more than one season of it to enjoy.
16bmathias@usd489.com
About the Contributor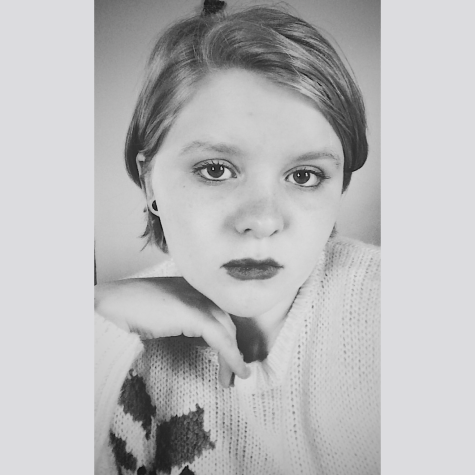 Brianna Mathias, Co-Editor-in-Chief
Brianna Mathias is a senior and this is her third year of being on the Guidon staff. She is a co-editor-in-chief and loves newspaper. She likes bees, folk-punk,...