1979 graduate Robert Clark shares his experiences working for National Geographic
Robert Clark, a 1979 Hays High alum, presented during PRIDE Time on Sept. 26.  
While at Hays High, Clark was involved with The Guidon and the Indian Call. 
"I had the good fortune of working on those publications," Clark said. "Those classes were pretty much the reason I got interested in photography. I also had a great art teacher. It all started here." 
While at Hays High, Clark said he was not a model a student. 
"I was actually a pretty terrible student," Clark said. "I had dyslexia, and I was problematic. I used to skip class just to shoot pictures." 
Photography was Clark's passion. 
"Once I found photography, I really hit my stride," Clark said. "I really found something I loved and was interested in. I've now been shooting pictures every day for almost 42 years." 
Clark attended Kansas State University and met many other competitive photographers, including former President Barrack Obama's photographer, Pete Souza.  
In 1995, Clark got his first assignment with National Geographic.  
"I'd worked at a lot of different newspapers throughout the United States, and I always wanted to work with the Geographic," Clark said.  
Since then, Clark has completed 50 stories for National Geographic and traveled to 72 countries with his work. 
One of Clark's most recognizable work is his pictures of the World Trade Center on Sept. 11, 2001. 
"I got a call from my girlfriend saying that a plane had hit the World Trade Center," Clark said. "My apartment at the time was close enough to the towers that I could see them." 
Clark was able to not only capture the first tower burning but also the second plane flying into the other tower.  
"To this day those pictures are hard to look at," Clark said. "After I took those pictures, I went closer to the towers to get more pictures. The world was never the same after that tragedy." 
21afeyerherm@usd489.com 
About the Contributor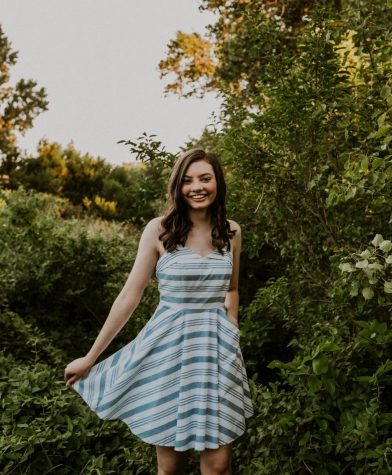 Alicia Feyerherm, Editor-in-Chief
Alicia Feyerherm is a senior, and this is her fourth year in Newspaper. She is very honored and excited to be in the role of Editor-in-Chief this year....