Students, staff share what makes good teachers, students
Both students and teachers have different expectations of one another. Here, students and teachers answer 'What make a good teacher?' and 'What makes a good student?'.
Students, what makes a good teacher?
"I think what makes a good teacher is them understanding that students make mistakes, having patience and having a relationship with their students," senior Claire Humphrey said.
"I think what makes a good teacher is having empathy and a want to help people. If you don't have empathy, then you cannot put yourself in your student's shoes and understand their situation(s). If you don't want to help people, then you shouldn't be in the education system, because that is what educating people is all about; helping them learn and succeed in life," senior Franklin Owens said.
"I think a good teacher knows that they're creating the minds of the future and that every day they come to school they can be making a difference in someone's future," senior Audrey Rymer said.
"What I think makes a good teacher is willing to let their students work at their own pace while still being able to teach the students who aren't as fast as others. They must also be able to keep the students' attention very easily by keeping the class entertaining even to the students not interested in the subject," junior Colton Dodd-Spencer said.
"I think what makes a good teacher is a teacher who is relatable and doesn't play favorites," junior Aaliyah Neuburger said.
"I think a good teacher is someone who can make their students understand something and keep their classes exciting," junior Tayden Shuck said.
"I think what makes a good teacher is if the teacher enjoys the subject their teaching and if they care about the kids they are teaching," sophomore Avery Winter said.
"I believe a good teacher is up to date on trends, has a personality everyone knows about, always catches your interest in the way they talk and is overall down to earth," sophomore Chase Wittman said.
Teachers, what makes a good student?
"A good student has the work ethic to get the work, not only done, but done right. My best students were the kids that would get their work done and then come make sure that it was done right so they did well on the quizzes and test. A good student also has intellectual curiosity. Wanting to learn and having the curiosity to look into topics they're interested in also makes a good student," math instructor Dustin Dreher said.
"I think what makes a good student is somebody who is willing to work, even if they don't immediately know the answer, and they put in time put in a little extra effort of talking to a teacher that they have in class, another teacher that they maybe don't have in class or fellow students so that they can learn how to do something that was difficult that they didn't necessarily understand how to do. It doesn't require them to understand it immediately, but it's the willingness to do a little extra work to figure it out," science instructor Alan Neal said.
"A good student is one who is respectful and kind to others, tolerant of others, helpful to others (including students and adults) and works hard to the best of their ability," English instructor Lisa Renz said.
"I would say what makes a good student is someone who is self-motivated, determined to do well, they care about their grades and they care about helping others in class," science instructor Beth Schiel said.
"To me, qualities that make a good student is personal engagement, self-advocacy and self-discipline. Good students show a genuine understanding that education is important to their future. It does not mean that they are all A students, however. They show care and concern for each class and take personal responsibility to get their work done and follow up when they miss class," Family & Consumer Science instructor Michelle Thacker said.
"I believe a good student is one that comes to school every day, has a positive mindset, is open to instruction, is involved in school and the community, embraces challenges and gives their best effort in all that they do," physical education instructor Haley Wolf said.
22acoveney@usd489.com
Leave a Comment
About the Writer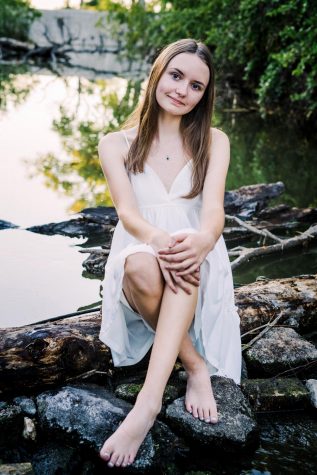 Alexandra Coveney, Features Section Editor
Alexandra Coveney is a senior, and this is her second year in newspaper. She is involved in band, Spirit Club, Student Council, Future Medical Professionals...