Current fashion trends mimic '80s and '90s
In the Hays community, students are seeing various new styles of fashion, like wearing feathers in their hair and returning clothing styles from their parents' eras.
There have been multiple students who have thought the unique fashion from the '80s and '90s is cool. So, the multitude of students who are bringing back the spunky fashion are giving Hays High a more fun personality.
"I absolutely love my feathers," freshman Aspen Melvin said. "My parents own a cosmetology school, so I was getting them all the time when they were a big thing a while ago. They can be difficult at times, but they are so worth it. They add a unique touch to your hair."
While adding feathers to your hair can make your style more unique, students have also enjoyed the retro fashions that have come back into style.
"I absolutely love the fashion that is returning," freshman Savannah Lawson said. "I've been waiting for this type of fashion to be trending. My best friend and I have always liked this type of fashion, and I'm glad everyone else has finally decided that they do too."
Though some of the older styles are fun, others are not. The students here have really enjoyed the styles from the '80s and '90s, but some students would prefer that these are the only styles that return. With the returning styles, some people are worried that other hyped-up fashion trends could return, like low-rise jeans, large hair-dos or other fashion flubs.
"I do not want Crocs to return," freshman Kaley Rajewski said. "I really like the '80s and the fashion statements, but some of the clothing is a little too much, like the clashing of the neon colors and the big hair."
Students like the hair accessories and the clothing, but some students may not enjoy the bags and items you can use to accessorize different outfits.
"A few fashion styles I wouldn't want to come back are fanny packs, bell bottom jeans and things like that," freshman Rylie Fairbank said. "I like the variety of styles we have now, and if some were to come back, I think that would be fine."
The '80s fashion has been returning ever so slowly to Hays High, and students seem to be enjoying it. While there are a few articles of clothing and some hairstyles that are unlikable, the '80s and '90s fashion is a big hit for the Hays High community. So, students have agreed that the wacky fashion is fun and exciting, but some styles are not so likeable.
23mtippy@usd489.com
About the Writer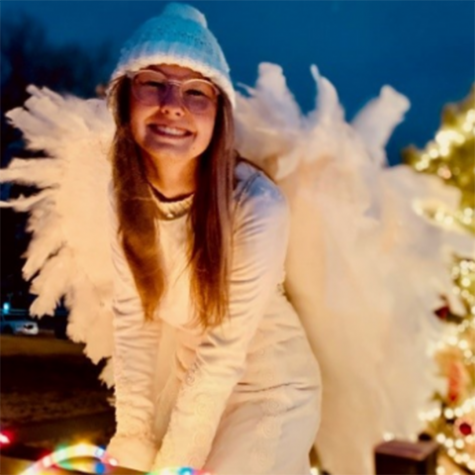 Maysyn Tippy, Staff Reporter
Maysyn Tippy is a freshman and first-year reporter for The Guidon. Maysyn enjoys the discovery involved in the journalism process. Outside of class, Maysyn...