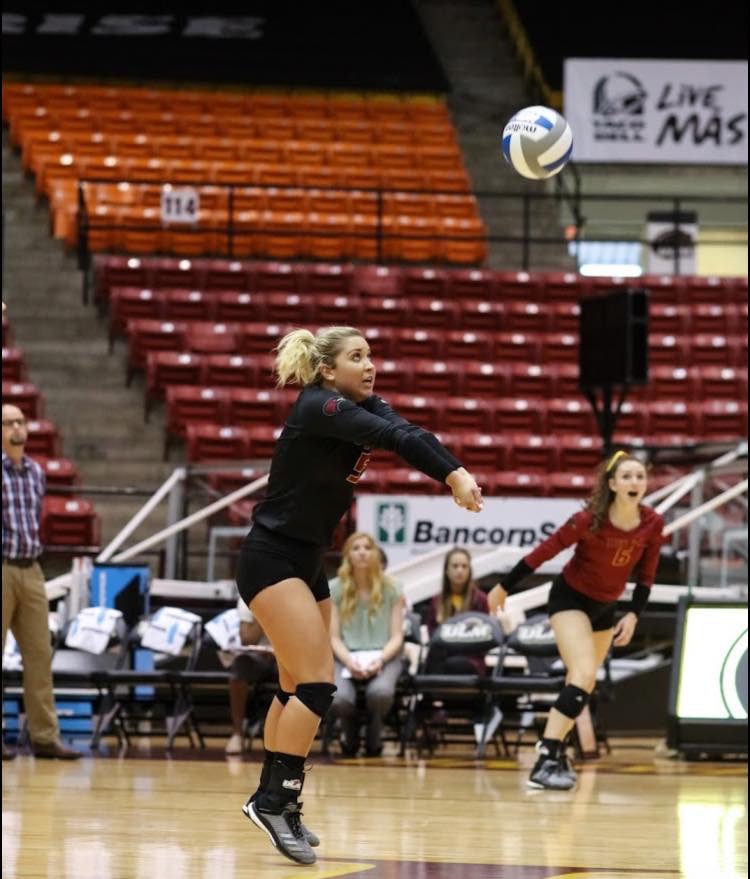 Courtesy Photo
2016 graduate Albany Schaffer continues volleyball career at DI school in Louisiana
Albany Schaffer left Hays three years ago to pursue her dream of playing collegiate volleyball at an NCAA Division I school.
In the fourth grade, Schaffer started playing volleyball after watching her neighbor play. Schaffer played all positions in recreational ball but started playing libero when she got older.
"I decided I wanted to play volleyball in college my freshman year," Schaffer said. "I really loved softball in middle school, but my love for volleyball grew more and more during school season and club season."
Schaffer has played three seasons of collegiate volleyball at the University of Louisiana-Monroe and will play one more.
"I decided I wanted to go to Louisiana because I wanted to go somewhere completely different than what I knew," Schaffer said. "I wanted to experience life from a different state, and it is completely different than home, but I am so thankful God led me here to Louisiana because I believe it is right where I need to be."
During her time at Hays High, Schaffer was also involved in softball, DECA, student council and spirit club.
College volleyball is a lot of hard work, but Schaffer said having teammates and coaches that really care about the program make it worth it.
"I do not know if I have an absolute favorite part of college volleyball, but some of the best things are all of the amazing places I get to go, the competition level is crazy and we get to compete in some top notch facilities, and I have met some of the most amazing people that will be my forever friends," Schaffer said.
Going into her senior season, Schaffer has high hopes and would like to make it to conference.
"We have a whole new coaching staff and a solid group of girls that are committed and ready to go, so I am super excited for this upcoming season," Schaffer said.
Schaffer is majoring in Kinesiology-fitness and sport industry with a minor in sports psychology. While she is not completely sure what she wants to do after graduation she would like to be a personal trainer, a sports representative for a college, or work with sports and be in a gym.
"I would tell other people from a small town that want to be collegiate volleyball is you can 100 percent do it," Schaffer said. "You are going to have to work twice as hard to prove yourself and earn your spot, but you are capable. Control the things you can control, go out of your comfort zone and work hard. The opportunities are all in your hands, and all you have to do is take advantage of them."
21abrull@usd489.com