Hays High to present 'Anne of Green Gables' March 9-11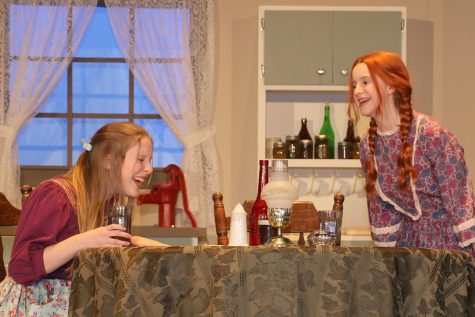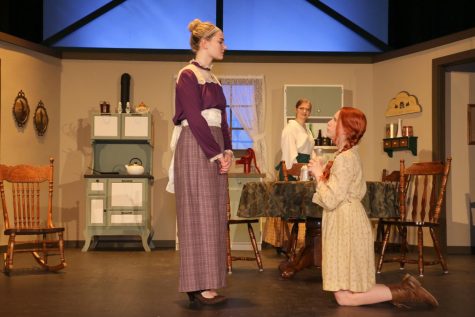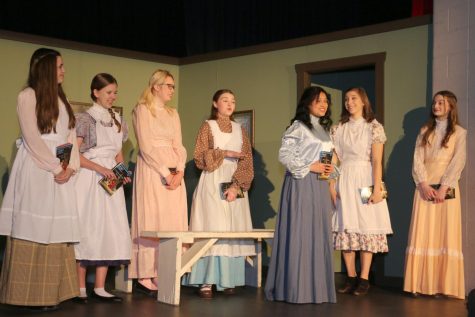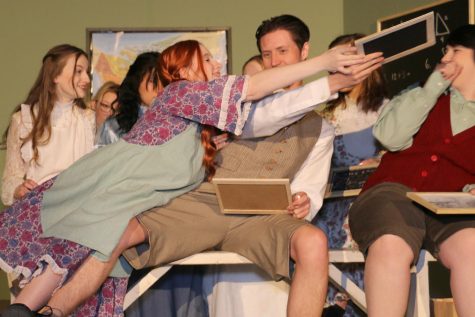 The enduring tale of red-haired orphan Anne Shirley will come to 12th Street Auditorium when Hays High School presents "Anne of Green Gables" at 7 p.m. on March 9-11.
Lucy Maude Montgomery's classic 1905 novel has been adapted for the stage by award-winning playwright Joseph Robinette and is under the direction of Bill Gasper
"I've had my eye on this title for several years but have passed on it for a number of reasons," said Gasper, who is directing his 17th non-musical Spring Play for the school. "However, I have kept coming back to it, and finally, decided to give it a go. I'm glad I did. It's simply a great story.
Gasper said there are numerous stage adaptations of the book, both musical and non-musical. In addition, there are several movie adaptations.
"The adaptation we are performing is essentially a 'highlight reel' of all the most memorable moments from the book," Gasper said. "It moves quickly from scene to scene and from season to season. Robinette does a nice job in keeping things moving and relatively cohesive, especially since it covers several years of Anne's life."
The book itself explores numerous literary themes, Gasper said.
"In a nutshell, it is a coming-of-age story in which a young girl (Anne Shirley) overcomes the adversity of losing her parents, living in an orphanage, and bouncing from one harsh family to another to achieve success," Gasper said. "It stresses the importance of independence, family, nature, faith, and education. Taking place in the early 20th century, the book explores the strict gender roles of that period and how Anne defies those stereotypes to prove she is equal to her male counterparts."
The play features a large cast of 23 students who appear on stage, plus six others who work behind the scenes.
"It's one of the largest casts I've had in a while, which presents its own set of challenges," Gasper said. "Overall though, I couldn't be more pleased with the effort and the outstanding performances taking place on the stage. Parents, relatives and community members should be very proud of the talent that exists at Hays High School."
General admission tickets are $8 and are available from cast members, at the Hays High office, or can be purchased at the door. In addition, tickets can be purchased online at www.ticketsource.us/hays-high-school.
CAST OF CHARACTERS
Anne Shirley Addy Brull
Matthew Cuthbert Caleb King
Marilla Cuthbert Devlyn Jochum
Rachel Lynde Spenser Mills-Kumala
Diana Barry Jordan Aschenbrenner
Mrs. Barry/Mrs. Neville Allie Conner
Girl On Street/Minnie May Barry Olivia Pince
Josie Pye Katelyn Willemsen
Mrs. Blewett/Ruby Gillis Calliope Green
Moody MacPherson Atlas Seib
Jane Andrews Skyler Rodriguez
Gilbert Blythe Caleb Johnson
Mr. Phillips/Jerry Buote/Rev. Allan Connor Werth
Charlie Sloan/Mr. Sadler Oscar Flores
Rev. Bentley/President Queen's Academy Calvin Moore
Station Master/Tommy Sloane Bryton Unsworth
Jimmy Glover Cade Becker
Miss Susan Stacy/Carrie Sloane Elizabeth Noble
Prissy Andrew/Aunt Josephine Barry Clare Tholstrop
Miss Rogerson/Mrs. Allan Rose Windholz
Bessie Wright/Mary Jo Maddie Meis
Girls On Street/Tillie Boulter Allison Goertzen
Violinist "Going Home" Evyn Cox
PRODUCTION CREW
Production Assistant/Sound Hannah Eikenberry
Stage Manager Ry Houchen
Stage Anna Zerr
Lights Jaxon Fleenor
Submitted by Bill Gasper
bgasper@usd489.com
View Comments (1)