Sophomores attend Reality U in Gym A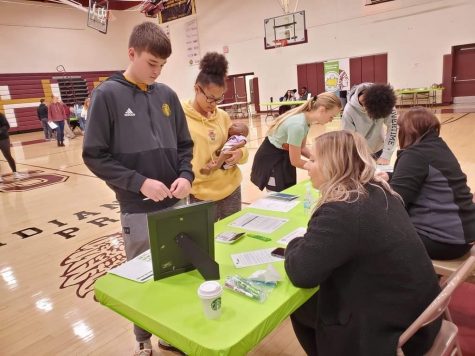 On Wednesday, Nov. 3, sophomores participated in Reality U in Gym A.
Students were split into groups depending on their Academy. Academies for Kayla Brown, Dan Dickerson and Erin Ray went during M1; those for Dustin Dreher, Jayme Goetz and Jerold Harris went during M2; those for Alan Neal, Jennifer Olt and Jerrett Pfannenstiel went during M3; and Academies for Beth Schiel, Cheryl Shepherd-Adams and Lynn Zimmerman went during M4.
Reality U is a simulation that demonstrates what life could be like for students at 26 years old. A week prior to the activity, sophomores were asked to fill out a mandatory survey to create a profile specified to them. Each profile contained hypothetical information, such as a monthly income, marriage status, credit score and amount of children.
At the program, students were given their specific profiles and asked to go around to certain booths to model responsibilities, such as childcare payments, housing costs, insurance bills, student loans, transportation costs and more. With this, students also had their monthly income to spend at these booths.
"The program made me realize how life really works from an adult perspective," sophomore Ava Schoenberger said.
24mnorris@usd489.com
Leave a Comment