Chamber Singers host Cabaret as first live vocal performance for 2020-21
The third annual Chamber Singers Cabaret took place on Feb. 20 near Gorham, Kan., in a barn on Lisa and Bruce Brooksher's property (parents of junior Chamber Singer Carson Brooksher).
Being the first vocal performance since last March due to COVID-19, the group took many precautions to mitigate the risk of any spread.
Seating was spaced six feet apart, with nearly four times that distance between the stage and the first row of audience members, and everyone was required to wear masks. Masks were only removed by performers while they were on stage to sing.
"No solution is perfect," vocal director Alex Underwood said. "'Perfect' is literally isolate and never be around other people for any reason. Anytime that we're not doing that specific thing, I feel like we're taking some kind of risk, so my hope is that this was a low-risk situation."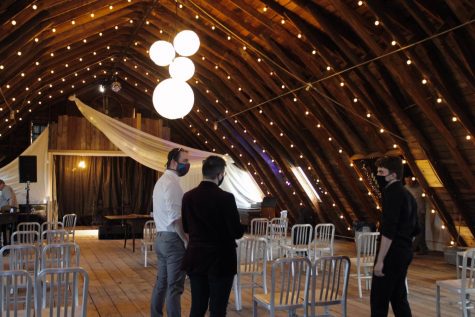 About five weeks of preparation went into the final performance, with Underwood greenlighting nearly every song the students came to him with, from deep and heartfelt to outrageous and comedic.
"They have a lot of opinions about what it is they want to sing," Underwood said. "If they're auditioning for performances, for schools, for scholarships, whatever, they need to have a diverse repertoire book. If students have no idea what they want to sing or if they want me to recommend something, the first lesson is a 30-minute session where we just listen to music that I think would suit their voice."
To stay organized throughout the rehearsal period, Underwood and accompanist Dr. Luis Reyes-Duarte set up available times on a running Google document for students to sign up for vocal coaching with them.
During and after the Cabaret performance, Underwood expressed nostalgic feelings for the current class of seniors.
When Underwood first arrived at Hays High School three years ago, the seniors were only sophomores — a fresh batch of entry-level Chamber Singers, diverse in voice and personality. Underwood said he has enjoyed getting to know them and to work with them because of their uniqueness.
"It's not a one-size-fits-all by any stretch of the imagination, which keeps me on my toes," Underwood said. "Watching their journey from where they were as sophomores to where they are now, I'm very proud. It's fun to watch them with such conviction and such confidence, like, 'This is who I am and what I do.'"
Career-wise, several of the senior Chamber Singers are either performance or education-bound.
"They are the next generation of artists and teachers," Underwood said. "It's fun to almost think of them as the next batch of colleagues that we get to have in our field. I feel like I say this a lot, but if this is the future leadership of our world, we are in such good hands."
With Underwood knowing each of the students' performances and their goals, he said that this year's Cabaret was a major success for everyone, especially for the new sophomores getting to show off their individual performances.
"Watching the younger students now, the current sophomores, step out for the first time was also very cool to think about," Underwood said. "I was thinking, 'This is where they're starting, and it's strong already, so now how am I going to help them become the next senior class of people who are confident and great?'"
21cleiker@usd489.com
About the Contributor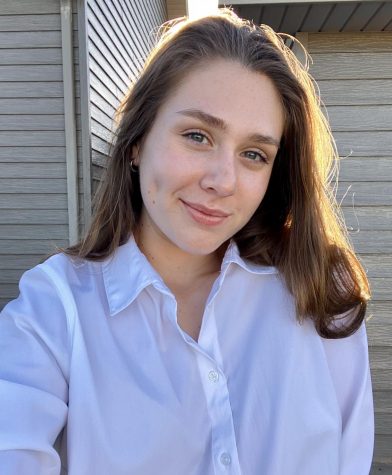 Caitlin Leiker, Assistant/Online Editor
Caitlin Leiker is a senior, and this is her third year in newspaper. She is involved in Chamber Singers, Musical, Spring Play, National Honor Society,...