Students wrap up audio drama, 'Unplugged' by off-Broadway playwright Catherine Trieschmann
In the fall semester, vocal director Alex Underwood commissioned off-Broadway playwright Catherine Trieschmann to craft a brand-new audio drama, including several Hays High students in her creative writing process, ranging from sophomores to seniors.
The project was born out of a need for theatrical entertainment during the pandemic, in an age where most live production spaces have gone dark.
Starting with conducting group discussions about possible plots and themes, Trieschmann began bringing in the first pages of scenes for the students to read in their after-school rehearsals every Thursday.
The romantic comedy, titled "Unplugged," follows two teenagers: Aisha (voiced by junior Shirley Lee), a high-achieving scholar, athlete and musician looking to take her place in the Ivy League at Dartmouth, and her crush, Luke (voiced by senior Gabe McGuire), the captain of the soccer team, who has a secret singing account on YouTube, run by his alter ego, "Folk Boy."
Throughout the story, Luke and Aisha struggle to balance their lives and their relationship between the real world and online.
Over the next couple weeks, students will be wrapping up post-production on "Unplugged," which explores the vast frontier of the internet, our addictions to it, cancel culture, how racism is perpetuated online and how ignorance still haunts modern society — even with limitless information at our fingertips.
The final product will be published on the Hays High website.
Before most of "Unplugged" was written, Trieschmann described a time that she had shared an online review over Lin-Manuel Miranda's "Hamilton," which referred to how "the Black and Brown bodies onstage," helped radicalize the narrative of the Founding Fathers for a more modern audience.
Trieschmann was then called out by an Internet stranger for using racist language, even though referring to actors as "bodies" is a part of the standard terminology used to describe a production's visual composition.
"I felt such shame, even though I was quoting the widely-used phrase in theatre studies," Trieschmann said. "Sitting with that was really interesting."
Underwood commented on Trieschmann's use of race as a plot point, saying that every industry right now is having more in-depth conversations about how racial history intersects with their roles, whether it is in medicine, law, athletics, journalism and countless others — including the entertainment industry.
"The question most commonly is, 'How are Black people represented on stage?'" Underwood said. "The history of theatre has a really problematic past if we're going to talk about minstrelsy — caricatures portraying Black people as dumb, or not even human, unfortunately… Things that are just not the way [society] views race anymore, thankfully."
"Unplugged" was also heavily motivated by the cast's positive and negative experiences online. During the group discussions, McGuire offered up his karaoke channel on the music app Smule and how it has affected his life, which became the primary inspiration for Folk Boy.
Trieschmann said that capturing the voices of the young characters through their language was a little challenging, but a lot of fun, as she got to "eavesdrop" on the students' worlds as if "opening a door on a different culture" in a digital generation.
Above all, Trieschmann wants the future audiences of "Unplugged" to laugh and enjoy the music featured in the recording while still keeping the larger themes in mind.
"I want them to think about how they exist online and if that's healthy," Trieschmann said. "And, I want them to pause a little bit when it comes to issues of race and culture and be mindful of what they may influence and what they may choose to ignore."
21cleiker@usd489.com
About the Contributor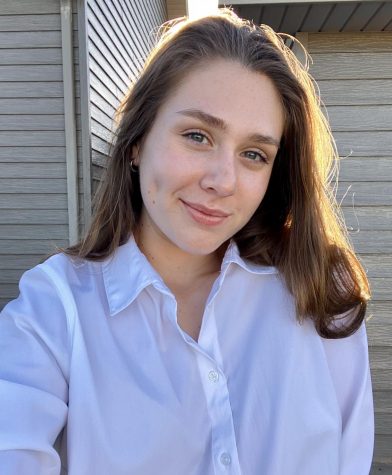 Caitlin Leiker, Assistant/Online Editor
Caitlin Leiker is a senior, and this is her third year in newspaper. She is involved in Chamber Singers, Musical, Spring Play, National Honor Society,...