Students participate in city-wide protest against police brutality, organized by Hays High alumna
Lining Vine Street, around 100 people stood in protest of police brutality and racism on May 31 at 2 p.m.
The protest, organized by 2017 Hays High alumna Anniston Weber, was publicized via Facebook.
"The murder of George Floyd has incited protests all across the country," the Facebook post said. "Small towns should get involved and show their support of our Black communities, too. Take a stand against police brutality, racism and discrimination."
Among those protesting were several Hays High students.
"If you watched the video [of George Floyd's death], it was completely cruel," senior Tom Drabkin said. "It's not like this was a one-off thing. This has been building for years and years."
Junior Shirley Lee also noted the recurrence of these problems.
"This has been an issue for a long, long time," Lee said. "It hasn't been solved. This [protest] is moving us one step closer to a solution, and it's very important that people are here and supporting the cause."
Senior Alisara Arial attended the event to take a stand against racism, not to condemn the police.
"I feel like people don't realize that this isn't a protest necessarily against police; it's more about standing up for the lives of those who don't deserve to be killed and creating a future where this isn't a problem," Arial said.
Even so, trucks with Blue Lives Matter flags drove around the protest area honking, which annoyed some protesters, like junior Spenser Mills-Kulmala.
"It's good to speak what's on your mind and use your voice against ignorance," Mills-Kulmala said. "To the ignorant people who are flying flags and protesting the protest, it's wrong, and I don't agree with it."
Senior Ashley Vilaysing said she believed her presence was important at the protest because "white silence is white consent."
"By not standing up for injustice, you're taking the side of the oppressor," Vilaysing said.
USD 489 School Board President Mike Walker observed the protest.
"I think it's important for people to protest when they feel strongly about an issue," Walker said. "It's encouraging to see that young people are taking issues to heart and are out here expressing their viewpoints. It's good to get the word out here in Hays."
21afeyerherm@usd489.com
About the Contributor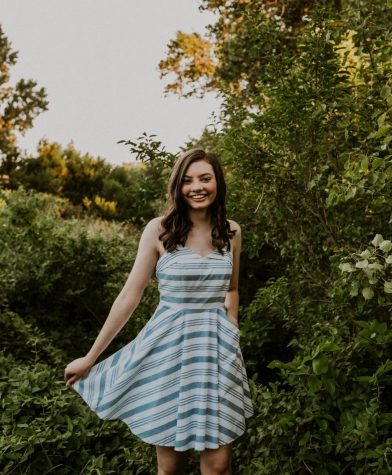 Alicia Feyerherm, Editor-in-Chief
Alicia Feyerherm is a senior, and this is her fourth year in Newspaper. She is very honored and excited to be in the role of Editor-in-Chief this year....