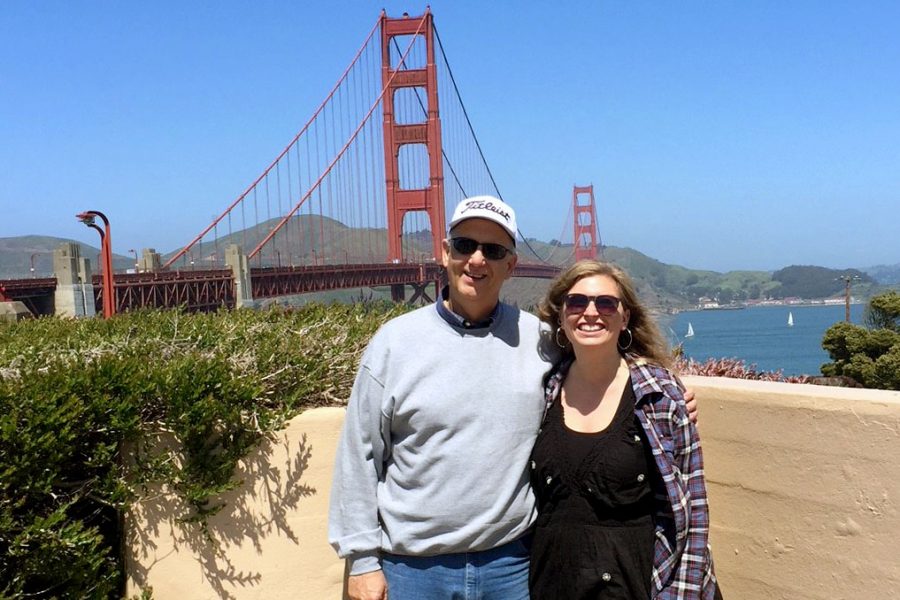 2013 graduate Delphine Burns pursues careers in journalism, advocacy
During her high school years, 2013 graduate Delphine Burns was an editor of "The Guidon," a Chamber Singer and president of the Gay-Straight Alliance. Burns often made an effort to engage herself in political and social activism as a teenager—a theme that has remained present throughout her life.
Burns often faced backlash and opposition for her strong stances on political and social causes throughout her time at Hays High but feels as though the adversity she overcame was well worth it.
"I've worked incredibly hard to get where I am now, and I deserve the life I've made for myself," Burns said. "I wasn't happy in high school, but I knew what I wanted, and I worked to arrive there."
After her graduation, Burns moved to California where she earned her bachelor's degree in Political Studies and Sociology at Pitzer College.
Following her graduation from Pitzer College, Burns worked for a short stint as an intern at a local newspaper in Santa Cruz, Calif. While discussing journalism-related job opportunities with fellow reporters, Burns decided to find a more long-term career in the field of public relations.
Burns' current primary job is at a public relations firm in Santa Cruz called FortyThree PR—an occupation that presents itself with a unique set of challenges.
"Public relations is a fast-paced career," Burns said. "Some days, your clients don't ask much of you, but other days you're working around the clock. You never know what sort of project you'll be working on next, which is actually part of the fun for me."
In addition to her main job, Burns also works part-time at a local non-profit that serves survivors of sexual assault, domestic violence and human trafficking. She works on a 24-hour crisis line and is a certified peer counselor in the state of California.
Among the most challenging aspects of her advocacy job, Burns said, is the emotional toll it takes to speak to individuals who are in crisis. Burns considers herself a passionate opponent of sexual and domestic violence and feels supporting survivors is her life's work.
If she could go back in time to give her high school self any direction, Burns said she would advise her past self to practice more self-care.
"(During high school) I always felt like an outsider, and even though it usually didn't bother me, sometimes it really hurt," Burns said. "I would tell my high school self not to take high school drama and dynamics to heart, because now it seems like a different lifetime, almost."
As for future plans, Burns said she may potentially take her LSAT and attend law school in her later 20's. For the time being, she would like to continue to refine her writing and advocacy skills.
"Eventually, I'd like to be a civil rights lawyer, a journalist at a top-tier publication such as 'The New York Times,' or maybe a public servant like a senator or a judge," Burns said. "I'm only 22 so I've got plenty of time and ambition."
18lgregory@usd489.com