Hays high band to hold its final concert of the year on May 18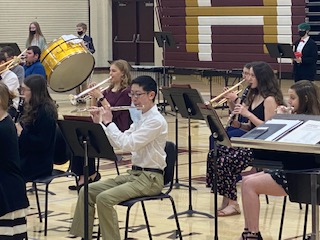 The All-City Bands Concert will be held at 6:30 p.m. on Tuesday, May 18 in Gym A at Hays High.
COVID-19 restrictions that were applied to previous concerts still apply to this one. Masks are required, and social distancing should still be practiced.
At this concert, the Hays High band will play three pieces. There first piece is "Fanfare Hayabusa" by Satoshi Yagisawa. This piece was released in 2011 to celebrate the success of the Hayabusa asteroid probe returning to Earth as the first spacecraft to get samples of surface of an asteroid on June 13, 2010.
Next will be "Song for Lyndsay" by Andrew Boysen, Jr. This piece also features a clarinet solo by Carl Maria von Weber. This piece was written in 2005 for Boysen's wife, Lyndsay.
Lastly, Hays High's band will play "Tribute" by Travis J. Cross. This was composed after the death of Cross's maternal grandfather in 2005. Conductors are welcome to honor whomever they want with piece.
The Hays High band has been practicing these pieces most of the semester.
"I feel like we have come a very long way as a band," sophomore Riley Kershner said. "For the most part, I am very pleased with the way things have gone this year, and I hope they continue. We make a lot of progress every class period, and the band works very hard."
23ksteinle@usd489.com