Students enter projects to technology fair
On April 30, the 62nd Annual Western Kansas Technology Education Fair was held at Gross Memorial Coliseum.
The event showcased projects completed by middle school students and high school students involved in technical education classes. Furniture, metal works, computer-aided design (CAD) drawings and various other projects were judged and displayed.
Hays High students submitted more than 35 entries to the fair. The majority of the projects were CAD drawings, machinery or the electric car raced by the Hays High Industrial Tech Association (HHITA).
Juniors Brooklyn Lewallen and Colton Pfannenstiel each submitted a CAD drawing to the fair that they worked on while in instructor Chris Dinkel's Auto-CAD II class.
"For the fair, I drew the cylinder head and flywheel of a small gas engine," Lewallen said.
Although this was the first year Lewallen entered a project for the fair, she earned a blue superior ribbon. Pfannenstiel also earned a blue superior ribbon for his drawing of a piece of a carburetor.
"Unfortunately, when I was in Auto-CAD I, COVID hit, and my entire class didn't get a chance to enter anything," Pfannenstiel said.
Junior Ross Eckroat also entered a project into the fair and was able to earn a blue superior ribbon. His project was made in instructor Alex Ford's Production Welding class.
"I made a three-point bale carrier/trailer mover for the back of a tractor," Eckroat said. "I began working on it at the end of fall semester but really began working hard on it this semester."
Both Lewallen and Pfannenstiel also said that they began working on their projects this semester. However, the project was not just another school assignment for Eckroat.
"I wanted to make it because it would help out my family's horse stable," Eckroat said. "We'll use it to move round bales, feed horses and move horse trailers to mow under."
About the Contributor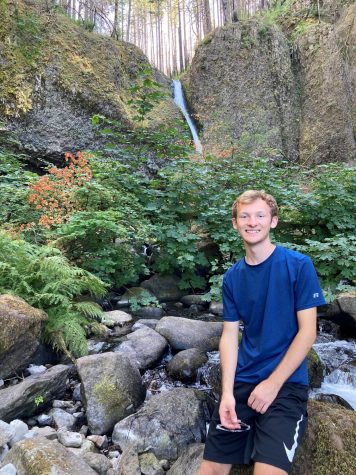 Ryan Schuckman
I am Ryan Schuckman, and I am a senior. I enjoy playing tennis and pickleball, making videos, and being outdoors. This is my second year in newspaper.