Chamber Singers hold classical program on April 10
For their second live performance, the Chamber Singers held a classical concert at 1 p.m. on April 10 at the First Presbyterian Church.
The group performed two groups of pieces: "Jesu, meine Freude," a 20-minute motet in German by Bach, and movements No. 3-6 of "Afro-American Fragments" by William Averitt with text by poet Langston Hughes.
Chamber Singers started rehearsing the Bach motet in the fall, adding the Averitt movements about six weeks ago to complete their set. Such a long rehearsal period was due to the shortened class time for Chamber Singers, with only two 30-minute segments every other day to meet, on top of diving into more difficult music.
"Bach is one of the most complex composers in the repertory at all," vocal director Alex Underwood said. "I don't care that we didn't do it super fast, because I'm really happy with the product. I thought the performance was really strong. High school students don't perform this work."
This event was the first time Underwood had publicly conducted in 13 months since the pandemic shut down in-person schooling — a break he had not experienced since pursuing his undergraduate degree 15 years ago. He said the chance to finally return and lead another performance was energizing.
Continued expansion of the students' exposure to different music styles was the main goal behind programming the motet, after experiences with modern music, a cappella, Handel, musical theatre, opera, Brahms, ancient chant and much more.
Senior Ashley Vilaysing said that one of the most difficult parts of the music was the lengthy rehearsal process, where some students struggled with keeping interest and motivation, as learning to love a difficult piece takes time.
Vilaysing said that the theme of movement No. 3, "Dream Dust," resonated with her.
"You can give away a lot of yourself, but you should never give up your dreams," Vilaysing said.
Underwood said the relating themes in both the Averitt and the Bach were a major factor in programming the music, touching on religion in education and the way it played out through learning Bach's German Lutheran background.
"Anytime that we're in school and talking about religion, that's sometimes a difficult thing," Underwood said. "We know that it's inappropriate for teachers to preach their religious beliefs to students, no matter what they are. Students can lead a prayer — that is their First Amendment right — but teachers don't have those same freedoms at school."
Above all, Underwood said he wants to approach religious music as "an academic pursuit" to avoid alienating students who do not align with those beliefs — a possibility that can often prevent choir teachers from programming religious music. Underwood added that the majority of all choral music is, indeed, Christian.
"It's important to me that everyone is able to connect with the music because I think themes like hope and faith are actually super universal," Underwood said. "Any time that [teachers] are facilitating and encouraging that, I think we can find good things in those words, regardless of our own beliefs."
21cleiker@usd489.com
About the Writer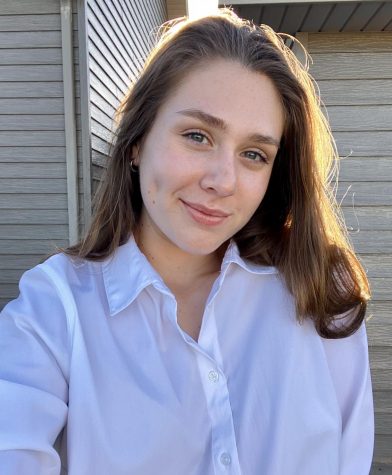 Caitlin Leiker, Assistant/Online Editor
Caitlin Leiker is a senior, and this is her third year in newspaper. She is involved in Chamber Singers, Musical, Spring Play, National Honor Society,...