Board of Education approves bid for parking lot construction
USD 489 Board of Education met on March 11 and discussed continued renovations on the Hays High parking lot.
The student parking lot has been resurfaced in sections, with a new section being renovated each summer. Businesses around town were given the opportunity to submit bids for this year's renovations.
"Last year, Commercial Builders won the bid; this year the low bid comes to us from Brian's Concrete for $185,625.00, which is significantly lower than the next place," superintendent Ron Wilson said.
The Board also received bids from Commercial Builders, Inc. for $227,813.00, JCorp for $270,000.00 and APAC-Kansas, Inc. for $309,872.00.
This year, more of the parking lot will be resurfaced than previous years. When the project started, about 60 feet by 240 feet was resurfaced. This year approximately 120 feet by 420 feet of the parking lot will be resurfaced.
"Per square foot, the price of concrete went down this year," Director of Buildings and Grounds Rusty Lindsay said. "We're actually getting a better deal per square than last year. It's just that we increased the size so we could get it completed this year."
This project will complete the work needed on the west side of the student parking lot.
"We're excited to have the west side completed, and we will look to work on the east side next year," Wilson said.
21afeyerherm@usd489.com
About the Contributor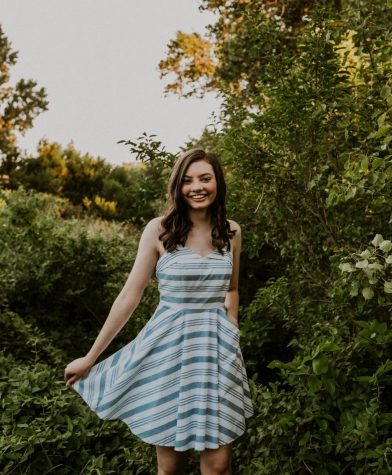 Alicia Feyerherm, Editor-in-Chief
Alicia Feyerherm is a senior, and this is her fourth year in Newspaper. She is very honored and excited to be in the role of Editor-in-Chief this year....