Sophomores break into finals at forensics tournament
The results from the Iola invitational brought promising results to this year's forensics team.
While there was not a school placing since only a few Hays High student competed, two students moved into finals.
"We got an email that said both [sophomore] Devyn [Jochum] and [sophomore] Kaley [Rajewski] into prose final, and their speaker points and rankings tied exactly, so we're really excited!" forensics coach Jennifer Rajewski said.
Jochum and Kaley Rajewski said they were both very excited about breaking into finals.
"This is my first time breaking in any tournament, so I'm pretty excited," Jochum said. "Obviously, finals don't look the same this year; however, they are live over Zoom, so everyone still only gets one shot to do their best. I can't wait to experience how finals are run in this format. Fingers crossed that all goes well!"
Like Jochum, Kaley Rajewski said she is a little nervous to perform in just one take.
"I am really excited that I broke especially because it's my first year, and it is still pretty early on; this was only our second tournament," Kaley Rajewski said. "So, I was really excited about it, but it is kind of nerve racking because you have to do it [perform] live, and when we can record, you can take lots of takes, so I need to get used to doing it live and in one take. But, I'm really excited to see how it goes."
In forensics, participants' scores are determined by judges.
"They start out with three preliminary rounds, there are six speakers in each room and they are given a ranking one to six, six being the best and one being the worst, so there can be no duplicates," forensics coach Jennifer Rajewski said. "Then, they are given speaker points 10 through 25, with 25 being the best, and judges can duplicate. For example, if they had someone in the room they just really liked the way they presented, they might give them a 23, and then another person comes along, and they give an equally good presentation, they might get a 23, too."
When the preliminary rounds are over, the rankings are added up. The lowest score possible is a three because there are three preliminary rounds. The lowest score wins, and the lowest 12 break, or move on, to the quarterfinal rounds. If a tie occurs, they look at speaker points and the one with the highest speaker points gets to move on.
While the events and the scoring remained the same from previous years, the way in which the contests occur this year are different because of COVID.
"In most cases this year, anything looking like quarterfinals or semifinals are also done asynchronous with the same video we send in at the beginning of the week. [For finals], we come into the library and log onto Zoom, and they will give live performance in front of a panel of judges for their final ranking," Rajewski.
23rfairbank@usd489.com
About the Contributor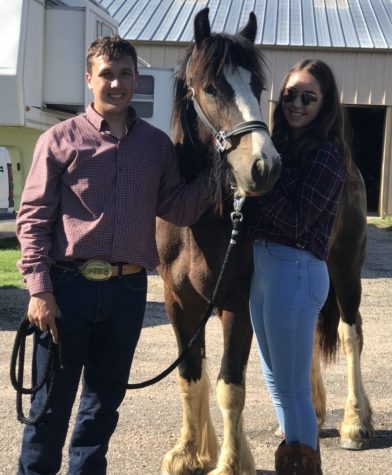 Rylie Fairbank, Staff Reporter
Rylie Fairbank is a sophomore, and this is her first year in newspaper. She absolutely loves anything "Mamma Mia" and ABBA. All fruit snacks are tropical...