JAG-K installs new members
JAG-K held its third annual Hays High School initiation and installation ceremony in the Lecture Hall on Nov. 9.
"We just completed our annual initiation and induction ceremony," sponsor Johnny Matlock said. "This is an important 'kick off' event for us." 
Officers include senior Gabe Garcia, President; Junior Matthew Bollig, Vice President of Leadership; senor Zach Chance, Vice President of Career Development; senior Kayley Chartier, Vice President of Community Service; senior Jarod Moore, Vice President of Social & Civic Activities; senior Jacob Bollig, Secretary; junior Elizabeth Dickman, Treasurer; senior Kaliegh Dreiling, Historian/Photographer; and junior Landon Giebler, Ambassador of Red Cross.
JAG-K members include the following:
Seniors: TayShaun Birch, Jacob Bollig, Zachary Chance, Kayley Chartier, Gabe Garcia, Josiah Grizzle, Keegan McCoy, Jarod Moore and Jonathan Rupe.
Juniors: Courtney Adam, Kayla Apalategui, Alan Apodaca, Mattew Bollig, Elizabeth Dickman, Kaleigh Dreiling, Jeremy Garner, Landon Giebler, Tegan Hartman, Margaret Holmes, Jesi McAlvian, Kyle Mortensen, Nicolas Juan Rojas Gonzalez, Sagan Schultz and Grayson Smith.
Sophomores: Mary-Katherine Bollig, George Chapa, Darian Dodd-Spencer, Brennon Garrison, Angeloh Leiker, Nathan Mendoza, Madison Nottingham, Karlee Plante, Adrian Rubio, Lily Stivers, Andrew Stone and Peyton Trent.
JAG-K stands for Jobs for America's Graduates – Kansas and is a national non-profit organization that partners with many public schools, including 63 in Kansas, to offer an elective class that provides academic support and other positive support to ensure that students earn their diplomas.   
"I joined JAG-K to learn about work and how to find a job," Adam said. "My reaction [to the initiation] was shocking because no one told me I was going to be in it. It was a surprise for me, but I really did enjoy it, and I'm so happy to be in JAG-K."
Like Adam, Garcia enjoys being in JAG-K as well.
"I joined JAG-K because I was recommended by one of my counselors back in Salina," Garcia said. "She thought I would be a great fit for this class. At first, I didn't like it, but then I got to know everyone and I fell in love with this class. I really enjoy this class and would recommend people to take this class."  
About the Contributor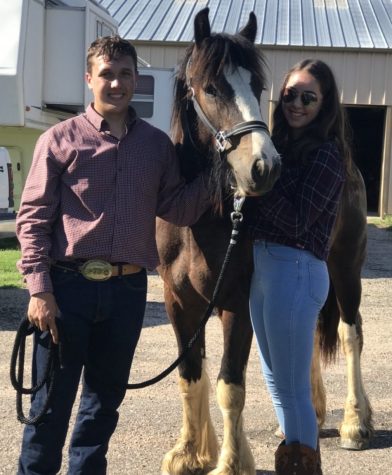 Rylie Fairbank, Staff Reporter
Rylie Fairbank is a sophomore, and this is her first year in newspaper. She absolutely loves anything "Mamma Mia" and ABBA. All fruit snacks are tropical...