Hays High students design their own masks
Hays High students making masks
Since face masks are mandated, students and staff may have noticed some unique masks being worn around Hays High, as some students are showing off their talents by making their own masks.
Freshman Dakota Normandin has made several masks so far.
"My mom started it," Normandin said. "She was making them for our family because she didn't want to buy any, and we had the materials and everything, so I started making them."
Likewise, junior Grace McCord started making masks, not just because they are required, but because she wanted an option that was better for the environment than disposable masks.
"I began making masks when we first got sent home last semester because I knew I would need them before too long," McCord said. "Using reusable masks is also better for the environment, so I knew I wanted to go that route rather than using disposable ones."
Disposable masks not only add to landfills, but also waste money, according to some students.
"I'm making masks because they are cheaper to make at home, and I can customize them easily," sophomore Devlyn Jochum said.
While people may think that making their own masks would be extremely difficult, those who make them say it is actually very simple, especially with practice.
"There are a bunch of free designs that you can find for making the masks, and if you fail the first time, just try again and you'll get it," Normandin said.
If you already know how to make masks or if you want to start making masks, they are great to share with friends and family.
"I think my favorite part of making masks is sharing them with others," McCord said. "I use lots of leftover quilt fabric, so they are all pretty colorful. It's just really great to see other people wearing them to keep others safe."
23rfairbank@usd489.c0m
About the Contributor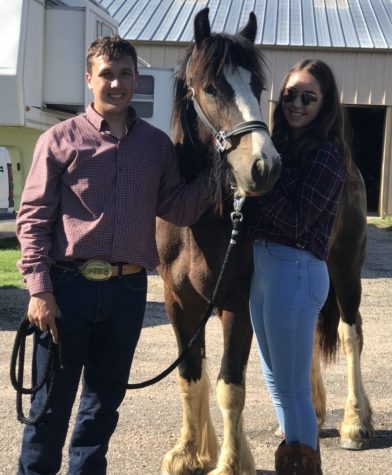 Rylie Fairbank, Staff Reporter
Rylie Fairbank is a sophomore, and this is her first year in newspaper. She absolutely loves anything "Mamma Mia" and ABBA. All fruit snacks are tropical...