Students reflect on favorite Homecoming spirit days
While Homecoming week had many changes this year, Spirit Week was one constant that students participated in.
Spirit days included Monochromatic Monday, Throwback Tuesday, Western Wednesday, Class Color Thursday and Guys in Ties/Girls in Pearls on Friday.
For Monochromatic Monday, some students dressed head to toe in their favorite color, even their shoes. Some students took the more subtle route, sticking with black or grey, while others stood out with white or neon colors.
"My favorite spirit day was when I got to dress up on all white," freshmen Edwin Muller said.
Throwback Tuesday had many different styles, too. Students dressed in decade styles from the 1920s to 2020s.
"My favorite spirit day was Throwback Tuesday because I liked seeing everyone dress up as different decades," senior Sydney Walker said.
Western Wednesday was very popular, as some students dressed in plaid and jeans with boots or a hat, and some went all out wearing chaps and spurs. There were even had a few farm animals.
"My favorite spirit day was the Wild West Day," senior Audrey Rymer said, while freshman Harley Zimmerman said, "My favorite spirit day was cowboy day. It was a pretty darn good day."
Although Class Color Day is not normally the favorite among the students, it is still fun to show school spirit. Class colors were black for seniors, white for juniors, grey for sophomores, gold for freshmen and maroon for faculty and staff.
Guys in Ties/Girls in Pearls was also a popular day. From nice shirts to tuxedos, and formal shirts to dresses, everyone looked lovely. Since there was not a formal dance this year, it was a nice way to show off students' dress-up outfits.
About the Contributor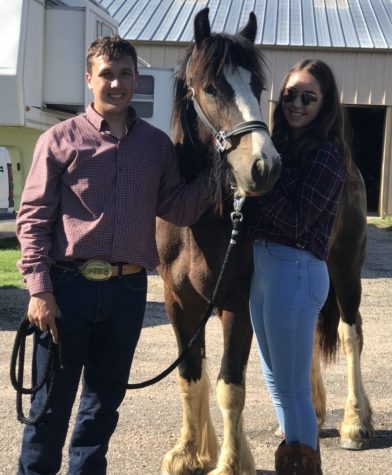 Rylie Fairbank, Staff Reporter
Rylie Fairbank is a sophomore, and this is her first year in newspaper. She absolutely loves anything "Mamma Mia" and ABBA. All fruit snacks are tropical...