Operation Manager at Paul Wertenberger Construction presents to students about his career on Feb. 7
Operation Manager at Paul Wertenberger Construction Kory Meyers presented to students about his career during PRIDE Time on Feb. 5.
"We [Paul Wertenberger Construction] cover about every aspect there is in construction," Meyers said. "We self-perform all the concrete, the framing, the trim work, cabinet work, and then we sell out the electrical and plumbing and sometimes the sheetrock."
One area Paul Wertenberger Construction does not work with a lot is the roofing side of construction.
"We used to do a lot of roofing," Meyers said. "Anymore, there's a few roofing companies, and we can't compete with them. They have crews where they can shingle a house in a day. Our crews, we aren't that fast since we don't do it that much anymore, so we pretty much stay busy just with the standard concrete and framing and all that."
Paul Wertenberger Construction services about a 90-mile radius of Hays.
"There are times we go farther than that, depending on what work is out there," Meyers said. "Typically, we stay busy enough here so we don't have to travel farther."
Paul Wertenberger Construction was responsible for the building of the new art building on the Fort Hays Campus and will begin construction for the new Memorial Union on campus in March.
Meyers stressed that going to a four-year college is not for everyone.
"There's really good trade schools around here," Meyers said. "And, if you don't want to do that, you can just jump into the workforce. Trades like construction, plumbing, electric, heat and air, they're always looking for help, and most of the time you don't need a degree."
Meyers also encouraged students to pay attention in their classes.
"You don't realize how much English and writing, how much of that I have to do now writing out estimates and stuff," Meyers said. "I also use math every day."
Social skills are also important in the construction field.
"I meet with clients day in and day out," Meyers said. "You're always going to have clients who you're halfway through the project, and something isn't the way they thought it was going to be, and they're upset. You have to deal with all sorts of people and personalities."
For those interested in going into hands-on careers, Meyers recommends getting actual experience in the trade.
"Take advantage of the classes offered here and try to get as much as experience as you can," Meyers said. "It's one thing to read about how to do things, but it's different when you're actually doing those things, and you need to have the basic skills."
Advancement is very attainable in the construction field.
"If you're willing to put in the hard work, be on time and be reliable, you will move up very quickly," Meyers said.
21afeyerherm@usd489.com
About the Contributor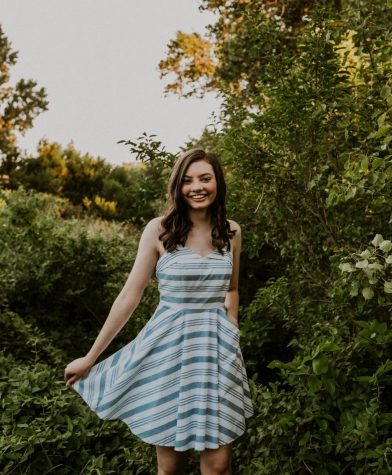 Alicia Feyerherm, Editor-in-Chief
Alicia Feyerherm is a senior, and this is her fourth year in Newspaper. She is very honored and excited to be in the role of Editor-in-Chief this year....