Chamber Singers strengthen performance for Homecoming Assembly
The Chamber Singers are currently working to perfect their performance for the annual Homecoming Assembly on Sept. 27. 
Vocal director Alex Underwood said the group has not run into any significant challenges and that they have picked up the music at an impressive pace. 
"Coordinating the body percussion is always a bit of a trick, but most of the students are really strong and really fast," Underwood said. "And, it's a good way to start the year because the music isn't very complicated." 
Underwood said he has experienced a "cultural shift" in his mind as far as the repertoire that the Chamber Singers will be learning. 
According to Underwood, the school used to perform popular music in a "really old-fashioned show choir way," which was the most popular in the early '70s to the early 2000s. 
"This year's programs are on the forefront of the way we incorporate pop music into a traditional school vocal music setting," Underwood said. "Lots of schools stopped taking the show choir route because sequined vests fell out of fashion. Interpreting styles of music in that way used to be hip and trendy, but it's now tacky and old." 
Underwood said that the new hip trend is performing acapella music. That is the direction more colleges are going, which is why it is good for the vocal students to experience this genre of music before they get there. 
"In my head, I just replaced the idea of a show choir with acapella music," Underwood said. "That fad has ended, I'm sorry to say. I'm sure there are some people who are really wanting that in their lives, and I honor that, but it's just not something I'm wanting to drive anymore." 
Senior Hanna Dannar said that the biggest challenge she has faced with the shift in repertoire is trying to learn a different part to the songs she hears almost every day. 
"It's been about recalibrating my mind to do the same song, but with the different notes, and changing it up so slightly that my brain still wants to do how I hear it on the radio," Dannar said. "I'm also not the most rhythmically-gifted person in the world. I can work my way through it, but in music like this where the claps and things are so distinct, you can really tell if someone's off." 
One of Dannar's favorite things about the different types of music that Underwood brings to the table is that she gets the chance to dabble in a bit of everything. 
"I don't know what type of music I like performing yet," Dannar said "I've done classical, now I've done acapella, and I'm just trying to slowly find what I really enjoy doing. So, the more stuff we can do that's different and that we haven't done yet, the better I think it will be for me and everyone else who's still trying to find what they enjoy." 
21cleiker@usd489.com
About the Contributors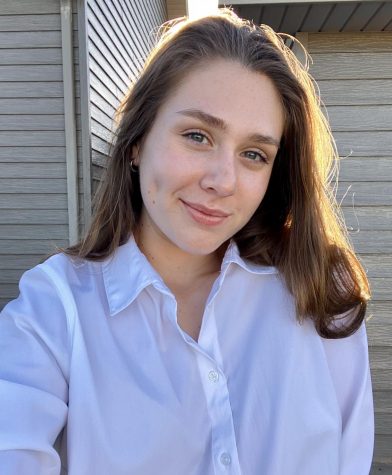 Caitlin Leiker, Assistant/Online Editor
Caitlin Leiker is a senior, and this is her third year in newspaper. She is involved in Chamber Singers, Musical, Spring Play, National Honor Society,...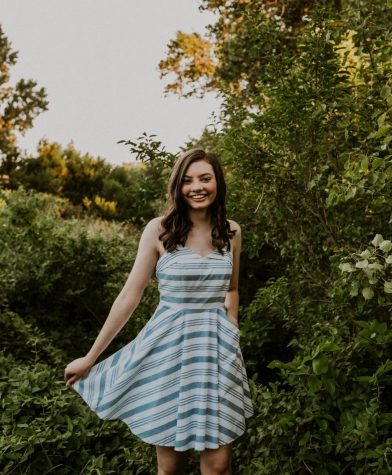 Alicia Feyerherm, Editor-in-Chief
Alicia Feyerherm is a senior, and this is her fourth year in Newspaper. She is very honored and excited to be in the role of Editor-in-Chief this year....