Guidon announces social media competition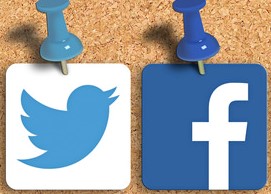 Hang on for a minute...we're trying to find some more stories you might like.
The Guidon recently announced a competition on their social media sites.
"We are trying to get badges for our online and a way to receive one is have a combined total of 1000 followers on two social media sites and right now we have 300 or 400 followers," Online editor junior Isabelle Braun said. 
To be entered you have to follow their Twitter or Facebook.
"We figured that it would be a simple task for people to follow our accounts to be entered into the drawing," Weber said.
The window for entry will close on Dec. 18.
"We will keep track of every student that followed and we will put their name into a website that is designed to randomize and select one person," Weber said.
If your name is selected, you will win a prize.
"If your name is first you will get your pick of a $50 gift card to either the Mall or to Hibbets," Weber said. "We will also be giving away smaller prizes as well for other names selected."
Students where the ones to pick the prizes.
"We went out and asked a bunch of people where they would want a gift card to and we got a bunch of Hibbets and places at the mall so we decided that whoever wins can decide which they want," Braun said.
To follow a page on Twitter or Facebook is a simple and easy task to do.
"Everyone should really follow," Weber said. "It is such an easy task, and you have a potential to win big."