Opportunity to take ASVAB available to all students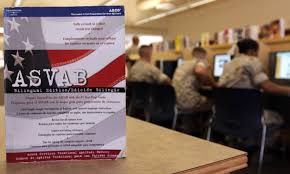 Students interested in pursuing a military career are urged to take the Armed Services Vocational Aptitude Battery (ASVAB) on Dec. 7, administered by the United States Military Entrance Processing Command.
According to the ASVAB's website, The ASVAB is a multiple-aptitude battery that measures developed abilities and helps predict future academic and occupational success in the military.
"This is the exam that the military gives to anybody interested in going into one of the branches of the military," Guidance Counselor Amy Miller said. "It's not going to be like your normal ACT or SAT exam. The test questions are different."
Miller said there are ten different tests within the ASVAB. They cover topics such as word knowledge, paragraph comprehension, arithmetic reasoning and mathematics knowledge.
"The nice thing about this test is there is also an interest inventory," Miller said. "Once you get the results of that, it kind of tells you based on your skills and your interest some jobs that would fit you well."
Miller encourages anyone who is looking at a career in the military to consider taking this test. She said she would also advise students who are unsure of what career field they wish to pursue to take the ASVAB as well.
"I know we have Career Cruising and there is the matchmaker part with that, but students can do another interest inventory and just see—based on their abilities—what other jobs are available and would be a good fit for them," Miller said. "It just gives them another avenue if they are uncertain as to which careers they want to look at."
Those who wish to take the test must sign up in the counseling office by Dec. 1.
Miller said taking the test does not necessarily indicate an intent to join the military, but branches of the military receive the results and recruiters may attempt to contact students later on.
"They [recruiters] are not supposed to contact the students until the end of the school year," Miller said. "But they may get phone calls and emails and those kinds of things from the recruiters based on their test scores."
18lgregory@usd489.com