Candidates Prepare for Homecoming Week
Hang on for a minute...we're trying to find some more stories you might like.
Homecoming week. Everyone from student to faculty is running around trying to prepare for a week full of spirit and fun. Countless hours from generous people have been put into the planning of the week, the dance and the parade all while balancing school and work.
Students attending homecoming are frantically looking and stressing over what they are going to wear, what they are going to do and how they are going to get there, among other things.
However, a select few students are having their frantic planning time amplified because of their homecoming candidacy.
"As a candidate I'm preparing a bit differently for homecoming this year," homecoming candidate Macey Steckel said.
Candidates for homecoming royalty have had extra responsibilities put onto them, adding to the work load that comes with being a normal participant.
Royalty-to-be have had to turn in pictures and a song for their candidate video which they had to record on their own time. Candidates also had to plan to make sure they are prepared to participate on every dress up day.
For some, this requires buying new clothes and accessories to participate in the theme for the day. These new clothes are in addition to the formal wear that candidates have bought for homecoming night.
"This year I've had to purchase not only one dress for the dance but a long dress to wear as a candidate," homecoming candidate Hannah Donaldson said, "This sounds like it might get pricey, and it was."
While some candidates have been busy with pictures and clothes, others have been campaigning in hopes that they might win the title of royalty.
Homecoming candidate Allen Zollinger has been busy campaigning for the title of "Homecoming King." He is campaigning to anyone he can.
"It's fun campaigning and promoting myself," Zollinger said, "I'm being more careful than usual to protect my beautiful face."
Some involved candidates have had even more work put on to them in addition to the work being put in for candidacy
Student body president Trinity Callis, who has also been chosen to be a homecoming candidate, hasn't spent as much time on being a candidate as she has figuring out the logistics of homecoming and homecoming week with Student Council.
"I haven't really spent a lot of time to prepare as a candidate as I've been busy trying to organize homecoming with Student Council," Callis said.
Over the past month, Student Council has been meeting, planning and voting on what will happen at homecoming. They have worked over many seminar periods and on their own time to deliver the Homecoming weeks program.
While some candidates have been stressing over Homecoming and the logistics of the week, some have not been sweating about it at all.
"I don't think it's too stressful," homecoming candidate Dante Blackmon said.
Blackmon said that he hasn't really done a whole lot except he spent a little more money than what he would've if he wasn't elected a candidate.
Regardless of what people think about the events leading up to homecoming week and what they must do. The feeling of what the candidates think of Homecoming in general is unanimous.
The candidates are all happy and excited to be elected as Homecoming candidates.
"It is quite a privilege to be picked among my peers for such an honorable opportunity. I'm looking forward to an eventful week." Callis said.
19sperryman@usd489.com

About the Contributors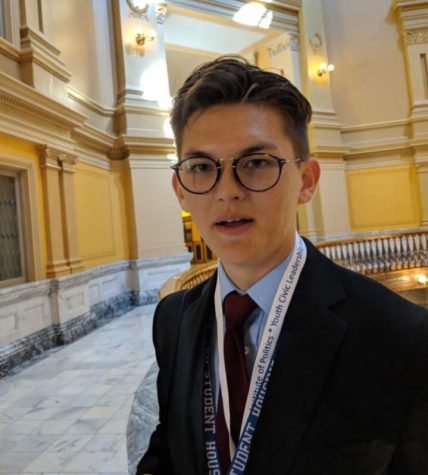 Scout Perryman, Staff Reporter/Cartoonist
Scout Perryman is a big, bad, senior. He is only doing newspaper because he would get yelled at by Isabelle if he did not. Scout's eyebrows are always...