Senior spends summer at basic training; misses many days of school
Hang on for a minute...we're trying to find some more stories you might like.
At the end of his junior year, senior Spencer Wittkorn left for Fort Benning, Georgia as a young man. On what was supposed to be his first week and a half of school, Wittkorn came back a soldier.
Wittkorn's whole dynamic was switched up when he arrived at Fort Benning for basic training. It was a stark contrast from what he used to at home.
"At school, you're on the clock from 7 a.m. to 3 p.m.," Wittkorn said. "At basic training, you are on the clock from 3 a.m. to 3 a.m. It was all day every day."
The basic training curriculum was just that, training. The long days were supplemented with rigorous training. This is designed to make the common man into a soldier.
"We did a bunch of training exercises," Wittkorn said. "We did an obstacle course, a confidence course, we did rappelling, we shot M4A4s, we shot machine guns, we shot grenade launchers, threw live grenades, stuff like that."
In addition to the long hours and training regiment, Wittkorn added that it was incredibly hot. So hot, that people would pass out from heat exhaustion in the middle of the day.
On some of Wittkon's days, his platoon would do something wrong. In this case, a drill sergeant would make the whole platoon do exercises for a long period of time, this was called "smoking."
"They can literally wake you up in the middle of the night and smoke you," Wittkorn said. "They would make you do pushups, crunches, v-ups, prone rows and lunges. We called it smoking because you would sweat and the sweat would evaporate off you and you would 'smoke.'"
After coming back from basic training, Wittkorn noticed a lot of things that he had previously taken for granted.
"I missed being able to not have to wake up at five in the morning, being able to sleep in, being able to eat food whenever I wanted to," Wittkorn said. "I missed being able to sit in chairs and not sitting on a linoleum floor, being able to talk to people without getting yelled at, being able to sit down for more than five minutes at a time. That's what I miss."
Wittkorn has missed lots of school. Most people would get buried in stress over the amount of makeup work due. However, Wittkorn lives by a different philosophy.
"I'm not stressed about the homework I have to do," Wittkorn said. "I learned in basic training that being stressed only makes you more stressed. Just don't be stressed."
19sperryman@usd489.com

About the Contributors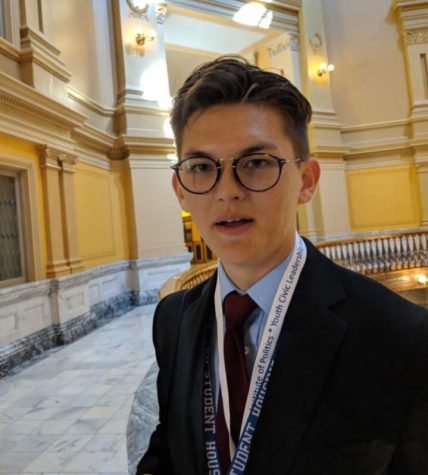 Scout Perryman, Staff Reporter/Cartoonist
Scout Perryman is a big, bad, senior. He is only doing newspaper because he would get yelled at by Isabelle if he did not. Scout's eyebrows are always...