"12 Angry Jurors" promo
A young man stands accused of murder. The trial is almost over. Eleven jurors are in the jury room, ready to convict. One of them, however, is not so sure.
Tempers rise and passions flare as the case is re-litigated.
Reginald Rose's compelling courtroom drama, "12 Angry Jurors," will be presented by Hays High School at 7 p.m. on March 16-18 at 12th Street Auditorium.
"The original title, of course, was '12 Angry Men,' but we changed it to reflect the mixed gender of our cast," director Bill Gasper said. "Many of us first read this play in our literature books in high school, but it continues to be a relevant story today."
The play revolves around Juror 8, who casts the lone not guilty vote, saying that she wants to visit about the case before sentencing a young man to a mandatory death penalty.
"It is during this discussion that we begin to see signs of bias and prejudice and the effect of peer pressure and how it can influence others into going against their conscience," Gasper said. "When the play was written in the 1950s, the struggle for racial equality was very prevalent in American society, and I think that theme is very evident in this play."
Because women were not universally accepted on juries in every state until the 1970s, Gasper said the play has been set in 1997, similar to a remake of the movie starring Jack Lemmon and George C. Scott. The original movie was made in 1957 and starred Henry Fonda. It also enjoyed a Broadway run in the early 2000s and continues to be a popular play with high schools, colleges and community theaters.
"In the past, I have only directed comedies, so this is my first attempt at a drama," Gasper said. "From a production standpoint, this was a challenging play to produce. Actors had to memorize long speeches, some more than a page long. There are also lengthy periods of inactivity where actors have to stay focused and in character. I'm proud of their efforts and the time they spent on and off the stage."
Student tickets are $3 in advance or $4 at the door, adult tickets are $5 in advance or $6 at the door.
Show dates are March 16-18 at 7 p.m. at 12th Street Auditorium.
About the Contributor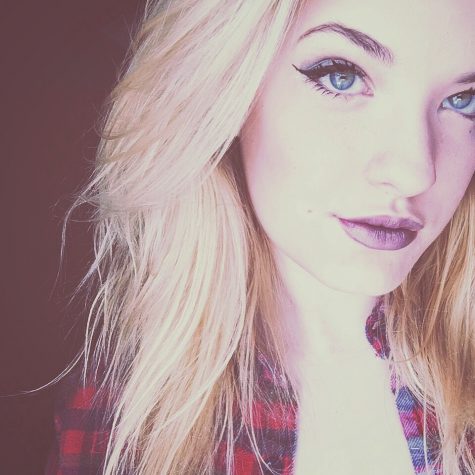 Anniston Weber, Co-Editor in Chief
Anniston Weber is Co-Editor-in-Chief of the Guidon and a senior this year. She has been involved with the Guidon for three years. In addition to being...