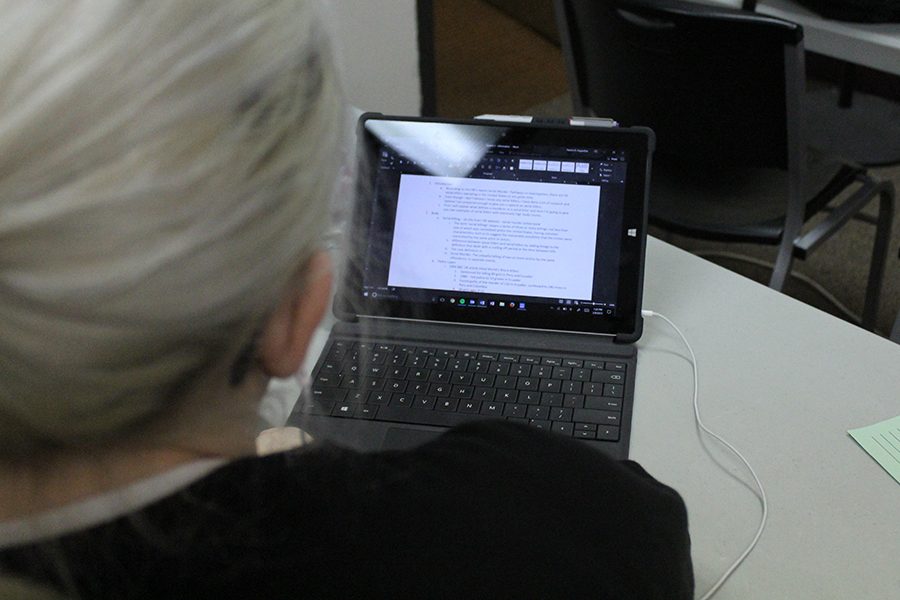 Tiana Lawson
Fundamentals of Oral Communications is a semester-long elective class offered to juniors and seniors for three hours of concurrent credit through Fort Hays State University. English instructor, Diane Mason, teaches the course.
According to the Hays High Course Guide, the class "examines theories and practices relevant to acquiring skill in interpersonal relations and public speaking. Students develop knowledge of, appreciation for, and skill in applying a variety of theories of communication."
Four speeches and four main units make up the curriculum of the class. The first speech is an introduction of the student to the class. Two informative speeches follow, with the final speech being persuasive.
Getting up in front of the class multiple times throughout the semester may seem a daunting task to some, as an estimated 74% of people have glossophobia—fear of public speaking—per StatisicBrain.com. However, Mason said that she feels most students appreciate the fact that the class is performance-driven.
"I think the students enjoy the interactive element of it," Mason said. "There is room for self-expression."
The aspects of the class that students most dread, Mason said, are the tests.
Characteristics of communication, types of communication, as well as elements of communication such as vocalics and eye contact are all covered in the tests.
Public speaking is a skill taught in Fundamentals of Oral Communication that Mason feels is relevant to many students throughout their lives.
"Not everyone will ever have to get up and make a speech in front of a large crowd," Mason said. "But knowing how to make a presentation and put PowerPoints together are important skills to have in many occupations."
18lgregory@usd489.com