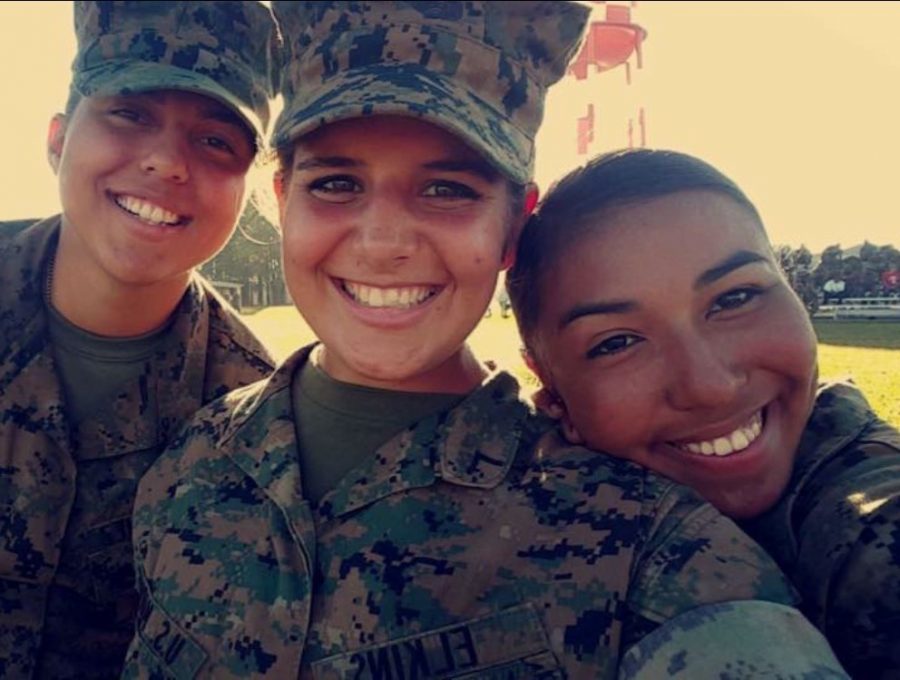 Since age 15, 2016 Hays High graduate Lacey Elkins has aspired to be in a combat role in the United States Marine Corps. Now, she's training for it.
Recently, Elkins was interviewed by PBS Newshour for a story over women in combat roles.
"The Marine Corps offered me a challenge, and having the opportunity to be a part of that generation for women was something that I wanted to do," Elkins told PBS.
The two-part special features Elkins and her journey throughout boot camp, meeting the same criteria as men in order to qualify for a frontline job.
Elkins said the PBS interview was relaxing compared to her training.
"I was actually allowed to speak in first person," Elkins said. "Normally, throughout the whole process of recruit training, you speak in third person. The point of that is to knock the individual out of you and become a team player. Now, once you earn the title of a Marine, you are then allowed to use first person terminology again."
The interviews, Elkins said, gave her a chance to be herself.
"Being featured on PBS was an amazing opportunity," Elkins said. "I was overwhelmed by all of the support I received."
Originally, Elkins entire family was shocked at the idea of her joining the military.
"It took them some time to get adjusted," Elkins said. "Once they saw my passion and how much the corps did for my brother, they were excited."
Elkins passed her combat fitness test with flying colors, receiving some of the highest scores in her platoon.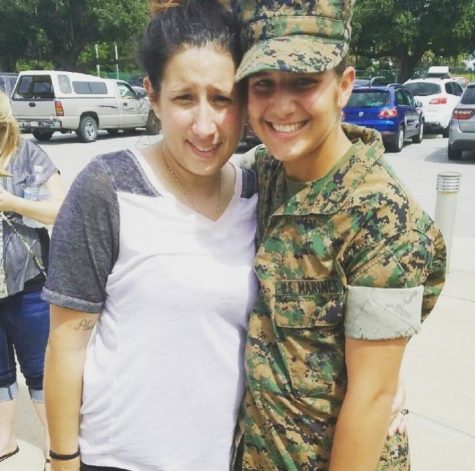 Now, Elkins serves as enlisted 2nd rank (E-2) and a Private first class, which she says is really just the beginning of her career.
"My current job is amphibious assault vehicle crewman," Elkins said. "In easiest terms, it's a tank that can go on water and has two machine guns. A 50 cal. and a MK 19-automatic grenade launcher."
The trials Elkins has faced in the Marine Corp has more than challenged her abilities as a Marine.
"I get pushed out of my comfort zone every single day," Elkins said. "Sometimes in different phases of training, you have 18 to 19 hour days with four or five hours of sleep."
Elkins graduated from her job school on Jan. 31, meaning she is the first female in her job in Marine Corps history.
"I am completely honored to be given the opportunity and the title," Elkins said. "But, by no means does that make me special in comparison to my male counterparts."
Self-discipline, teamwork and confidence are just a few of the qualities the Marine Corps has instilled in Elkins.
"I could go on for days about what I've learned," Elkins said. "Naturally, I learned the three Marine Corps values: courage, honor and commitment. Along with that I've learned accountability for yourself and your gear, the ability to move fast and efficiently, and the ability to lead others."
However, Elkins said the main lesson the Marine Corps taught her was to never be comfortable.
"I am still in the learning process, making mistakes, so on and so forth," Elkins said. "These days are the ones that I will absorb the most knowledge, grow from them and be able to adapt and overcome."
Although she was appreciative of it, Elkins said the publicity isn't the most important thing to her.
"The most important thing to me is the question of 'Am I performing on the same level as my male counterparts and is the mission being accomplished effectively?'" Elkins said.
Elkins said she quite a ways to go, but she is excited for what lies ahead.
"I'm not in this for glory," Elkins said. "At the end of the day, if the Marine to the left and to the right of me lives, I've accomplished my goal."
17aweber@usd489.com