Indian baseball takes Regionals, advances to state
Hang on for a minute...we're trying to find some more stories you might like.
The Indian baseball team beat McPherson and Buhler to advance from regionals to the state competition. Hays defeated McPherson 16-2 and Buhler 9-7.
During the McPherson game, junior Dawson Harman and sophomore Cody Petersen each scored three runs, seniors Jace Armstrong and Grant Coffman and juniors Trey VanPelt and Cole Murphy all scored two runs. Senior Tyrone Wynn and sophomore Treyton Riggs both scored one run.
Wynn had seven RBIs, VanPelt had four and Murphy had two. Junior Dawson Harman, sophomore Palmer Hutchison and Riggs each had one RBI. Riggs was the winning pitcher on the game.
In the Buhler game, sophomore Treyton Riggs scored two runs. Seniors Tyrone Wynn, Grant Coffman and Jace Armstrong, juniors Dawson Harman, Trey VanPelt and Cole Murphy and sophomore Palmer Hutchison all scored one run to round the scoring out to 9-7.
Coffman was the winning pitcher on the game. Riggs was the leader in RBIs with three, followed by Armstrong with two and Harman and Petersen who each had one.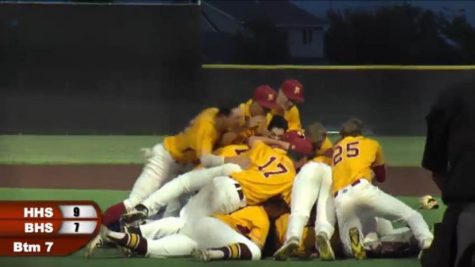 The Indians advance to the state competition which begins on May 25.