Christmas Carols or Turkey Tunes?
There is a silent divider at Hays High: when does the Christmas season start?
Some teachers break out the Christmas lights and fake fireplaces right after Halloween, and some refuse to let the trees be lit until the Thanksgiving turkey is gone.
"Christmas starts for me in July, when the Hallmark movies come out," social science instructor Luke Lundmark said. "We decorate our house in November, and we start to watch Christmas movies Nov. 1. We put the tree up mid-November and decorate it."
English instructor Vanessa Schumacher said she agrees that Christmas can start being celebrated before Thanksgiving.
"We always start decorating Nov. 1," Schumacher said. "If you have ever been in retail, you start Christmas on Nov. 1 because that's when people start buying stuff for Christmas, so with Christmas, I've always just done that, and once I had kids, I stopped doing it, and they would be like, 'Why aren't we putting up the Christmas tree, Mom?' So, it's just a force of habit that we start Christmas the day after Halloween."
But, what about Thanksgiving? Is it forgotten with all the Christmas commotion?
"Thanksgiving happens in November sometime; we call it Christmas Junior," Lundmark said.
Thanksgiving is sometimes drowned out by the joy of Christmas coming, but some teachers do not forget it. Unlike Lundmark, English teacher Liza Renz does not start celebrating Christmas until after Thanksgiving.
"Usually, [Christmas] starts Thanksgiving weekend when I put my tree up," Renz said. "We celebrate Thanksgiving on Thursday, Friday and Saturday, and then Sunday, I put the tree up."
Lundmark's student teacher Jessica Johnson waits for Thanksgiving to pass before she starts getting ready for Christmas.
"For me, [Christmas] starts the day after Thanksgiving just because Thanksgiving is one of my favorite holidays," Johnson said. "Personally, for me, it doesn't start until after Thanksgiving because I like to celebrate that all the way through."
23rfairbank@usd489.com
About the Contributor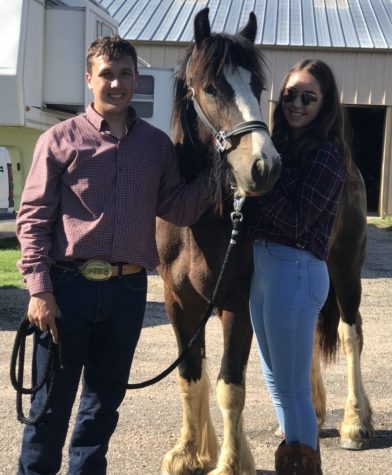 Rylie Fairbank, Staff Reporter
Rylie Fairbank is a sophomore, and this is her first year in newspaper. She absolutely loves anything "Mamma Mia" and ABBA. All fruit snacks are tropical...