Senior Pen Pal program starts again this year
The Senior Pen Pal Club, which was started last year by teachers Luke Lundmark and Diane Mason, is a club in which students get to know a senior citizen through hand-written letters. Hays High students are matched with senior citizens form anywhere from Hays to New York.
"The Pen Pal program is that we connect high school students with senior citizens, and we develop and foster relationships with letter writing back and forth," Lundmark said. "My favorite part is just seeing how much the senior citizens love getting letters and love getting connected to high school students, and on the flip side, seeing our students build these deep connections with senior citizens."
Students write two letters or more to their pen pal a month, and over time, the students and the senior citizens get to know each other better.
"I am in the Senior Pen Pals because I thought it would be a super cool experience to get to know someone just by mailing each other back and forth," senior Mylah Potter said. "My favorite part would have to be receiving all of the cool pictures my pen pal takes in the state she lives. It is so beautiful!"
Students in the group had various reasons for wanting to join.
"What inspired me to join the Senior Pen Pal Club is my family and friends," junior Chloe Sillmon said. "I loved writing letters to them, but I always had troubles writing to them because they know everything about me. So, the Pen Pal Club is a great club to send letters without repeating the same thing over and over again. My favorite part about being in this club is receiving letters. I love reading what my pen pal has to say about themselves and everything going on. I hope my Pen Pal feels the same way I do. And, I hope I make them happy."
Like Potter and Sillmon, junior Elizabeth Clingan also enjoyed hearing about her pen pal's life.
"I joined the club last year because some of my friends encouraged me to, and it just seemed like a really neat opportunity," Clingan said. "My favorite part is my pen pal. I love getting to hear her thoughts and stories."
Beyond just enjoying and learning from the pen pals' letters, the students also realize that they make a difference in the senior citizens' lives.
"I was inspired to join the Senior Pen Pals Club because I work at a nursing a home and see residents who don't have contact with their family members," senior Kassandra Zimmer said. "Usually those residents are lonely, but I love getting to write to someone and being able to brighten up their day. My favorite part about the Senior Pen Pals Club is receiving a letter. I always get excited to sit down and read a handwritten letter from someone."
If students are interested in joining the Senior Pen Pals Club and get to know a senior citizen through letters, they can contact Lundmark or Mason for more information.
"They can contact me by the end of the month and get a permission slip filled out, and they will be put on a list, and if the list is full, and we don't have any pen pals they will be put on a waiting list until one is available," Lundmark said.
23rfairbank@usd489.com
About the Writer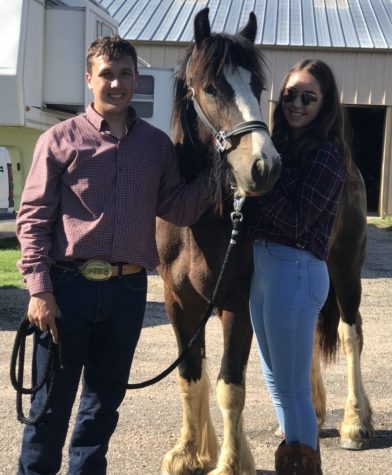 Rylie Fairbank, Staff Reporter
Rylie Fairbank is a sophomore, and this is her first year in newspaper. She absolutely loves anything "Mamma Mia" and ABBA. All fruit snacks are tropical...