StuCo Regional Conference held on Oct. 1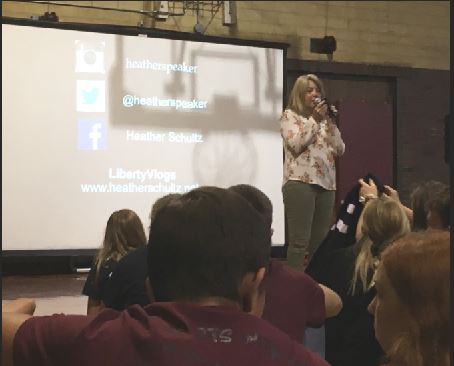 The StuCo Regional Conference was held on Oct. 1 at 12th Street Auditorium. The event started at 7:30 a.m. and lasted until 1 p.m.
At the conference, students from 18 different schools completed activities and listened to a speaker named Heather Schultz.
"Heather Schultz spoke about developing character and breaking out one's comfort zone," StuCo sponsor Alicia Brungardt said.  "She said not to fear failure because 'fail' only stands for 'First Attempt in Learning.'"
StuCo Officers from Hays High led many activities throughout the day.
"Our students learned to prioritize tasks, organize events, manage their time and overcome obstacles," Brungardt said. "They also had to step out of their comfort zone and work with the 200 students who attended."
The activities that the students did were about how to be a student leader by having discussions and talking in small groups.
"Leading my group through the activities was my favorite part," Junior Class Vice President Alexis White said.
This is the first year Hays has hosted the event since Brungardt became the sponsor.
"The students enjoyed working together and networking with other students from other schools," Brungardt said. "I think they were satisfied with their ability to pull off another event, especially since it happened just a few days after Homecoming."
21mweilert@usd489.com