DECA hosts Entrepreneurship Promotion Week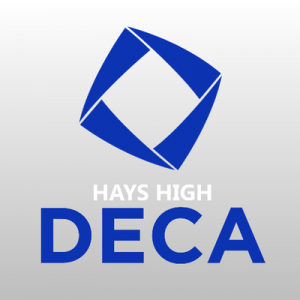 Hang on for a minute...we're trying to find some more stories you might like.
Hays High DECA prepares emerging leaders and entrepreneurs for careers in marketing, finance, hospitality, and management in high schools and colleges around the globe. Currently, there are 215,000 members worldwide.
DECA is active in the community by organizing and conducting the annual Trick or Treat so others Can Eat Food Drive, supporting and raising funds for Ronald McDonald House Charities of Wichita and conducting various Public Relations Campaigns as well as various related marketing projects.
DECA members compete at a state and international level, and DECA wishes to celebrate those individuals who have jumped at the opportunity to be their own boss.
Entrepreneurship is the cornerstone of our local economy and provides opportunities for those who desire to own their own business. Local entrepreneurship provides jobs and generates tax dollars that support our schools and local government entities.
During the week of Jan. 21 through Jan 25, DECA is sponsoring an entrepreneurship week throughout the community. The theme of this year's campaign is Passion to Paycheck. The co-chairs of the campaign are DECA members Brooke Denning, Cassidy Prough and Madelyn Waddell. Signage will be hung throughout the building informing students and faculty about entrepreneurship and the events that will take place during the week.
On Monday, Jan. 21, information regarding the week's activities will be launched on www.hayshighindians.com, the DECA social media websites and Hays High social media websites. Ads will run on various Eagle Radio stations as well.  The purpose of this week is to further educate people about the value of entrepreneurship.
On Wednesday, Jan. 23 and Friday, Jan. 25, DECA members will be instructing Wilson first graders in Julie Brown's class about entrepreneurship. The elementary students will be creating a product prototype, determining the cost of materials, setting the price of the product, and developing an advertising campaign for their product. DECA members will assist the first graders in this process. We are looking forward to fun filled class times with the Wilson first graders.
Also on Jan. 23, local entrepreneur and DECA alum Allyson Werth will be coming to share her experience of starting and owning multiple businesses. TMP, FBLA, JagK, Helping Hands and Hays High entrepreneurship students have been invited to attend.