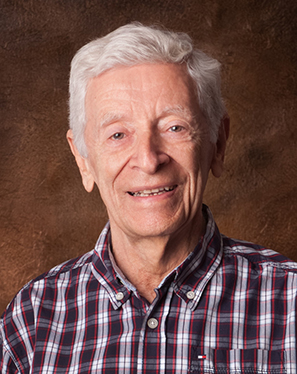 Holocaust survivor Gene Klein presented to individuals from the Hays area on April 13 at Beach-Schmidt Performing Arts Center. The event was free and open to the public.
In 1944, Klein was a teenager living in the Hungarian village of Beregszász. During the spring of that year, Klein and his family were taken from their home and placed in the infamous Auschwitz concentration camp in Poland.
After surviving a year in the concentration camp, Klein made it his life's mission to make his story known around the world and educate people about his experiences.
AP U.S. History instructor Abby Maska offered extra credit to students who attended the presentation. She felt her students enjoyed the speech beyond just the few bonus points added to their grade.
"The feedback I got from students was generally really positive," Maska said. "It gave them a unique chance to hear a firsthand account on a historical event."
Maska's AP History classes are currently studying World War II and she felt that hearing from a Holocaust survivor such as Klein would supplement their studies.
"It worked out really well that the timing of this presentation and our unit of study in AP American History coincided," Maska said.
Despite originally attending to receive extra credit, junior Kori Beckman found the presentation to be well worth her time. The statistics Klein included alongside his stories were among the most interesting parts to Beckman.
"He told us that six million Jews were killed," Beckman said. "He put it in perspective for us by saying a stadium that could seat 75,000 people would have to be filled all the way full 80 times in order to fit six million people. That's how many people were killed."
Hearing from an individual who survived such a traumatic experience as the Holocaust is not an everyday occurrence in 2017. Beckman felt privileged to have even listened to Klein.
"It was absolutely a once in a lifetime experience," Beckman said. "I would've sat there for another two hours to keep listening. I am so glad I went."
18lgregory@usd489.com