Staffer explores one of the best rock albums of all time, nearly 30 years later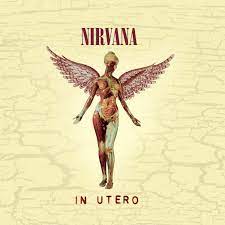 One of the most influential albums of all time, "In Utero" by Nirvana, changed the sound of rock music.
This extremely experimental album differs greatly from the band's previous album, "Nevermind," going from a polished sound to a very raw one. This album takes a turn away from the mainstream commercial rock scene that they exploded into with "Nevermind," in a direction that is not as one-dimensional.
Nirvana consisted of singer, songwriter and guitarist Kurt Cobain, bassist Krist Novoselic and drummer Dave Grohl. "In Utero" was the band's third and final studio album after Cobain's unfortunate suicide in 1994.
The album consists of very raw sounding songs, like "Milk It," and also songs that would be commercially acceptable, like "Heart-Shaped Box." All of these songs showcase Cobain's genius songwriting ability perfectly. They range from the deeply emotional lyrics of "Dumb" to the hard, loud riff in "Radio Friendly Unit Shifter." Even in his most commercially successful songs, he shares some of the most personal lyrics out there, proving that he was one of the most real and authentic artists of all time.
"In Utero" opens with "Serve the Servants," in which Cobain talks about his struggles with fame and his family. In the first verse, he criticizes how his and his wife's, Courtney Love, public images are portrayed in the media, and in the second verse, his troubles with his family, most explicitly his father, are explored.
Later on, there is "Rape Me" and "Frances Farmer Will Have Her Revenge on Seattle," both dealing with similar themes. Despite the name, "Rape Me," is a very anti-rape song. In the song, Cobain takes the perspective of the victim, where she is aware that her abuser will rape her, but instead of being afraid, she stands up for herself and is asking for it just be over with. She even refers to him as "my friend." On the other track, he tells the story Frances Farmer, who was kept in mental hospital for much of her later life after having allegedly been charged with disorderly conduct. She was often administered insulin shock therapy and suffered constant abuse from the hospitals. He wrote this song from the perspective of Farmer, showing the horrible thing she was put through. Cobain, being a self-proclaimed feminist, exhibited a lot those ideals on both tracks.
As mentioned earlier, "Dumb" is one of the most emotional songs on this album. The slower tempo and lackadaisical signing add to the overall mood and the already depressing lyrics. This is a song that many people feel a deep connection to, due to the very relatable lyrics, with lines like, "I'm not like them, but I can pretend." For these reasons, this is one of my personal favorites on "In Utero."
There is so much that could be said about any Nirvana album, from talk about the jarring riffs to lyrical analysis. There is nothing that could have possibly made this beautifully crafted album any better than it is. "In Utero" is the most complex album that Nirvana released and is a great ending point for a band that, unfortunately, ended too soon.
23ksteinle@usd489.com
Leave a Comment